New OSHA LOIs address exit signs, lockout/tagout
Posted December 30, 2022
OSHA recently released two new letters of interpretation (LOI), which address exit signs and lockout/tagout. While the LOIs are dated March and May of 2022, they appeared on OSHA's website during the last week of December. LOIs provide official responses to employer questions about OSHA's regulations.
The May 25 LOI addresses employer questions regarding exit signs. OSHA states that the International Standards Organization (ISO) emergency exit symbol can be located beside the mandatory EXIT text on an existing sign. It goes on to say, "Neither §1910.37 nor any other OSHA standard prohibits the display of another emergency exit symbol, such as ISO's emergency symbol, alongside an existing exit sign that meets §1910.37(b)(7) requirements." The LOI also states that an employer may use the larger ISO 7010 arrow in lieu of the chevron directional indicator specified in NFPA 101-2009 along with an NFPA-compliant EXIT sign.
The March 7 LOI addresses the applicability of lockout/tagout and the maintenance and operations of cathodic protection (CP) rectifiers when working on pipelines. However, OSHA states that it's not able to provide definitive responses to the employer's questions, as it hasn't examined the equipment or physical location described.
This article was written by Rachel Krubsack of J. J. Keller & Associates, Inc.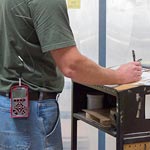 Looking for more on workplace safety?
Get the information and products you need to stay on top of industry changes and comply with regs.