NY signs Warehouse Worker Protection Act into law
Posted December 23, 2022
On December 21, New York Governor Kathy Hochul signed the Warehouse Worker Protection Act (S. 8922/A. 10020) into law. It protects warehouse distribution workers from undisclosed or unlawful work speed quotas and includes protections for workers who fail to meet these quotas. The law takes effect 60 days after its signing.
Among its requirements:
Distribution centers must disclose work speed data to current and former employees to inform workers about their performance and their rights in the workplace;
Workers are protected from adverse employment actions, such as disciplinary action or firing, exclusively because of a failure to meet undisclosed speed quotas or quotas that don't allow for proper breaks;
Quotas must not interfere with workers' lunch, rest, or bathroom breaks; and
Employers must maintain records related to employees' work speed data, aggregate work speed data, and written descriptions of quotas.
This article was written by Rachel Krubsack of J. J. Keller & Associates, Inc.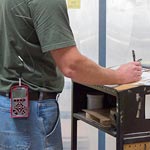 Looking for more on workplace safety?
Get the information and products you need to stay on top of industry changes and comply with regs.