It's coming! OSHA sends COVID-19 for Healthcare final rule to OMB
Posted December 9, 2022
OSHA has sent its COVID-19 for Healthcare final rule to the Office of Management and Budget (OMB) for review. The review generally takes 90 to 120 days, at which point the rule is published in the Federal Register.
In June 2021, OSHA issued an emergency temporary standard (ETS) to protect healthcare workers from occupational exposure to COVID-19. The ETS took effect immediately and also served as a proposed rule on which OSHA requested comment. In its Spring 2022 regulatory agenda, the agency projected a September 2022 release of the final rule.
This article was written by Rachel Krubsack of J. J. Keller & Associates, Inc.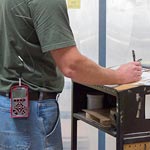 Looking for more on workplace safety?
Get the information and products you need to stay on top of industry changes and comply with regs.