Fatal work injuries in 2021 were up 8.9 percent over 2020
Posted December 16, 2022
A worker died every 101 minutes from a work-related injury in 2021, the Bureau of Labor Statistics reported in its Census of Fatal Occupational Injuries (CFOI). A total of 5,190 fatal work injuries was recorded in the U.S. in 2021, an 8.9 percent increase over 2020.
The fatal work injury rate was 3.6 fatalities per 100,000 full-time equivalent (FTE) workers, up from 3.4 in 2020. This was the highest annual rate since 2016.
Key findings from the 2021 CFOI
The share of Black or African American workers fatally injured on the job reached an all-time high in 2021. Deaths for this group increased 20.7 percent over 2020.
Workers in transportation and material moving occupations experienced a series high of 1,523 fatal work injuries in 2021 and represent the occupational group with the highest number of fatalities. This is an increase of 18.8 percent from 2020.
Transportation incidents remained the most frequent type of fatal event in 2021 with 1,982 fatal injuries, an increase of 11.5 percent from 2020.
Suicides continued to trend down, with an 8.9 percent decrease over 2020.
Worker characteristics
Black or African American workers, as well as Hispanic or Latino workers, had fatality rates in 2021 that were higher than the all-worker rate of 3.6. Transportation incidents were the highest cause of fatalities within both of these groups.
Women made up 8.6 percent of all workplace fatalities but represented 14.5 percent of intentional injuries by a person in 2021.
Workers between the ages of 45 and 54 suffered 1,087 workplace fatalities, a 13.9 percent increase from 2020.
This article was written by Rachel Krubsack of J. J. Keller & Associates, Inc.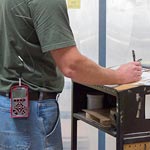 Looking for more on workplace safety?
Get the information and products you need to stay on top of industry changes and comply with regs.