Park it: IRS releases parking deduction guidance
Posted December 12, 2018
On December 10, the Internal Revenue Service issued interim guidance designed to help tax-exempt organizations such as some non-profits deal with changes that impose new taxes under the Tax Cuts and Jobs Act (TCJA). The TCJA eliminates businesses' ability to deduct expenses they incur for providing their employees with fringe benefits such as parking. It also subjects nonprofits to an unrelated business income tax of 21 percent for the transportation benefits they provide to their employees.
The guidance involves the treatment of qualified transportation fringe benefit expenses paid or incurred after December 31, 2017. The new rules help taxpayers in determining the amount of parking expenses that are no longer tax deductible. They also help tax-exempt organizations determine how these nondeductible parking expenses create or increase unrelated business taxable income (UBTI).
The guidance comes late in the year and taxpayers that own or lease parking facilities may have already adopted reasonable methods in 2018 to determine the amount of their nondeductible parking expenses. The IRS indicated that taxpayers may rely on the new guidance or, until further guidance is issued, use any reasonable method for determining nondeductible parking expenses related to employer-provided parking. The guidance also includes a safe harbor method that should minimize the burden on affected employers.
A key part of the guidance is a special rule, enabling many employers to retroactively reduce the amount of their nondeductible parking expenses. Under this rule, employers will have until March 31, 2019, to change their parking arrangements to reduce or eliminate the number of parking spots they reserve for their employees. By making this change, many churches, schools, hospitals, and other tax-exempt organizations may be able to reduce their associated UBTI. In some cases, the organization may avoid having to file a Form 990-T, Exempt Organization Business Income Tax Return, altogether. Such a change made in parking arrangements will apply retroactively to January 1, 2018.
The IRS also announced that it will provide estimated tax penalty relief in 2018 to tax-exempt organizations that offer these benefits and were not required to file a Form 990-T last filing season. Additionally, some tax-exempt organizations will not exceed the $1,000 threshold below which an organization is not required to file a Form 990-T or pay the unrelated business income tax.
The Treasury Department and IRS are looking for comments for future guidance to clarify the treatment of these qualified transportation fringe expenses, particularly about the definitions of "primary use" and "general public" and whether primary use should be used to determine the extent to which parking is made available to the general public. Comments may be submitted electronically via the Federal eRulemaking Portal, via postal mail, or in person.
This article was written by Darlene M. Clabault, SHRM-CP, PHR, CLMS, of J. J. Keller & Associates, Inc.
---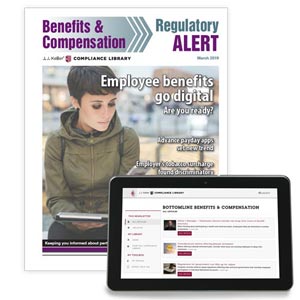 J. J. Keller's BottomLine Benefits & Compensation is an 8-page, monthly newsletter that addresses key issues relating to benefits and compensation programs.
---
J. J. Keller's FREE HRClicks™ email newsletter brings quick-read workplace safety and compliance news right to your email box.