When is 12 months 12 months? Eligibility Q and A
Posted December 14, 2017
While the FMLA can seem so easy sometimes (really, it can), there are times when its simplicity is what makes it difficult; it leaves out many details that administrators confront on a regular basis.
Some of those details deal with an employee's eligibility to take FMLA leave. On the surface, it's easy; an employee needs to meet the following criteria:
Work for your company for at least 12 months (need not be consecutive),
Work for at least 1,250 hours in the 12 months before leave is to begin, and
Work at a location with at least 50 company employees within 75 miles.
Looking at only the first bullet, however, we can come up with some challenges.
Q: Jimmy worked for our company for four months before leaving on military duty for 11 months and has returned to work. Would he meet the 12-month eligibility criterion?
A: Yes; time spent in military service is to be counted toward an employee's eligibility criteria.
Q: Jose joined the company on January 9, 2017. Because of injuries suffered in a car accident and subsequent recovery, he took June and July off as non-FMLA leave. Would you need to count those two months toward Jose's 12 months?
A: Any weeks that Jose remained on the payroll, even if on paid or unpaid leave, would be counted toward meeting the 12-month eligibility criterion. The time off, however, would not be counted toward the 1,250-hour criterion
Q: Claudia spent five months working for our company in China. Do we count those five months she worked outside the U.S. toward the 12-month eligibility criterion?
A: No. Only time spent working in the U.S. needs to be counted.
Q: Adam spent ten months with our company as a temp employee through a temp agency. Does his time working for us as a temp employee count toward the 12-month eligibility criterion?
A: Yes; your company and the temp agency are seen as joint employers, so any time spent with your company through the temp agency would be counted.
Q: Samantha told us she was going to need leave three months from now. As of today, she has worked with us for only 10 months. Do we calculate the 12 months in relation to when she asked for leave, or when the leave begins?
A: The determination of when an employee has worked at least 12 months is to be made as of the date the FMLA leave is to start.
Q: Randy began taking non-FMLA leave three weeks before he would meet the 12-month eligibility criterion. Will he be eligible for FMLA leave in three weeks, when he does meet the criterion, and is that when the 12 weeks would begin?
A: Yes, any leave taken after Randy meets the 12-month threshold would be FMLA leave. You would not count the three weeks of leave taken before that threshold as FMLA leave.
---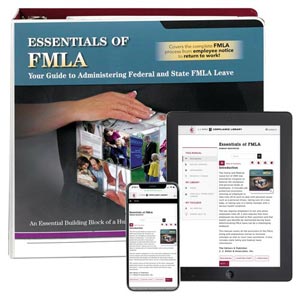 Learn more about products and services that provide you with confidential, consistent, high-quality leave management on our FMLA resource page.
---
J. J. Keller's FREE HRClicks™ email newsletter brings quick-read human resources-related news right to your email inbox.