More employees are calling in sick when they aren't, survey shows
Posted December 1, 2017
According to new CareerBuilder data, 40 percent of workers have called in sick in the last 12 months when they weren't, compared to 35 percent in 2016 and 38 percent in 2015. Female workers were more likely than their male counterparts to take sick days when they were well – 43 percent to 35 percent respectively.
While they may not necessarily be sick, workers cite the following reasons for calling in:
Doctor's appointment – 30 percent,
Didn't feel like going to work – 23 percent,
Need to relax – 20 percent,
Want to catch up on sleep – 15 percent,
Run errands – 14 percent,
Catch up on housework – 8 percent, and
Plans with family and friends – 8 percent.
The most unbelievable excuses for calling in sick
Nearly three in five workers who have a paid time off (PTO) program (28 percent) say they feel obligated to make up an excuse for taking a day off, even though the majority of employees (54 percent) work for companies with a PTO program which rolls sick, vacation, and personal days together.
When asked to share the most dubious excuses workers have given for calling in sick, employers reported hearing the following:
A bear was in employee's yard and they were afraid to come out.
Employee's phone exploded and it hurt their hand.
Employee ate a toothpick in his food at a restaurant.
Employee broke his arm wrestling a female bodybuilder.
Employee called in "fat" because uniform didn't fit.
Dog swallowed employee's car keys so she was waiting until it came out.
Employee left his clothes at the laundromat.
Employee did not have enough gas to get to work.
Employee had to re-schedule a new manicure because some of the artificial nails fell off.
Employee was not sure how the solar eclipse would affect them so it would be safer to stay at home.
Caught in the act
Over a third of employers (38 percent) have checked up on a worker who called in sick to make sure he or she was actually sick, and 26 percent have fired a worker for calling in sick with a fake excuse (up from 22 percent last year). Forty-three percent have caught an employee lying about being sick by checking out their social media posts, up from 34 percent last year.
When checking up on an employee who called in sick, 64 percent of employers required a doctor's note, 46 percent called the employee, 25 percent had another worker call the employee, and 22 percent drove by their house or apartment.
Survey methodology
The survey was conducted online by Harris Poll from August 16 to September 15, 2017 and included a representative sample of 2,257 full-time hiring managers and human resource professionals and 3,697 full-time workers across industries and company sizes in the U.S. private sector.
---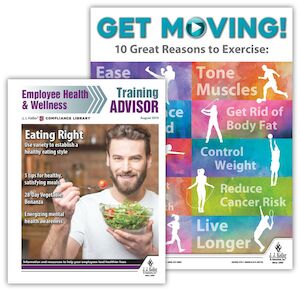 J. J. Keller's LivingRight®: Health & Wellness Awareness Program offers an easy way to help control healthcare costs and promote employee wellness.
---
J. J. Keller's FREE HRClicks™ email newsletter brings quick-read human resources-related news right to your email inbox.