FMCSA proposes to change 'personal conveyance' guidance
Posted December 19, 2017
The Federal Motor Carrier Safety Administration (FMCSA) proposes to amend its regulatory guidance on personal conveyance to level the playing field between single-unit vehicles and tractor trailers.
Under the personal conveyance provision, a driver may operate a commercial motor vehicle (CMV) for personal use while off-duty. This provision is available to all CMV drivers required to record their hours of service (HOS) who are permitted by their employer to use the vehicle for personal use.
Current guidance
Question 26 under section 49 CFR 395.8 was issued by the Federal Highway Administration (FHWA) — FMCSA's predecessor agency — in a memorandum dated November 18, 1996, and later published in a compilation of guidance in the Federal Register on April 4, 1997.
The current guidance requires that the driver be relieved from work and all responsibility for performing work in order to be in an off-duty status. Specifically, it applies when traveling:
To and from the place of employment (e.g., the normal work reporting location), and
Short distances from a driver's en route lodgings to restaurants in the vicinity of such lodgings.
The existing guidance also prohibits the operation of:
Laden CMVs, and
CMVs by drivers who have been placed out of service for HOS violations.
The agency explains that the current guidance was written for combination vehicles, where the driver could readily detach the trailer and bobtail with the power unit under the personal conveyance provision.
The current interpretation inadvertently left out single-unit work trucks that carry loads, as well as tools of trade and related materials, on the power unit. The driver of a single-unit work truck cannot easily offload the vehicle. Removing the tools and supplies and reloading them after personal conveyance may create a burden for the carrier and driver, the FMCSA says.
Proposed verbiage
FMCSA's proposed guidance would revise Question 26 to focus on the reason the driver is operating a CMV while off duty, without regard to whether the CMV is or is not laden.
FMCSA proposes the following text for Question 26:
Question 26: Under what circumstances may a driver operate a commercial motor vehicle (CMV) as a personal conveyance?
Guidance: A driver may record time operating a CMV for personal conveyance (i.e., for personal use or reasons) as off-duty only when the driver is relieved from work and all responsibility for performing work.
(a) Examples of appropriate uses of a CMV while off-duty for personal conveyance include, but are not limited to:
1. Time spent traveling from a driver's en route lodging (such as a motel or truck stop) to restaurants and entertainment facilities and back to the lodging.
2. Commuting from the last location where on-duty activity occurred to the driver's permanent residence and back to that last on-duty location. This would include commuting between the driver's terminal and his or her residence, between trailer-drop lots and the driver's residence, and between work sites and his or her residence.
(b) Examples of uses of a CMV that would not qualify as personal conveyance include, but are not limited to, the following:
1. The movement of a CMV to enhance the operational readiness of a motor carrier. For example, moving the CMV closer to its next loading or unloading point or other motor carrier-scheduled destination, regardless of other factors.
2. After delivering a towed unit, and the towing unit no longer meets the definition of a CMV, the driver returns to the point of origin under the direction of the motor carrier in order to pick up another towed unit.
3. Continuation of a CMV trip in interstate commerce, even after the vehicle is unloaded. In this scenario, on-duty time does not end until the driver reaches a location designated or authorized by the carrier for parking or storage of the CMV, such as a permanent residence, authorized lodging, or home terminal.
4. Bobtailing or operating with an empty trailer to retrieve another load.
5. Repositioning a CMV and or trailer at the direction of the motor carrier.
The CMV may be used for personal conveyance even if it is laden, since the load is not being transported for the commercial benefit of the carrier at that time.
FMCSA is taking comments for 30 days on the proposed guidance. When submitting comments to the Federal Docket Management System (FDMS), please reference Docket ID FMCSA-2017-0108.
---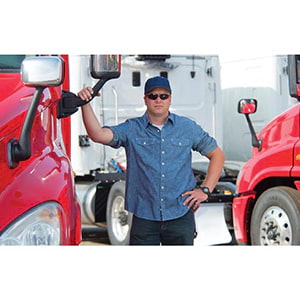 Help your drivers know how to comply with current hours of service rules with J. J. Keller's Hours of Service Training courses.
---
J. J. Keller's FREE Transportation SafetyClicks™ email newsletter brings quick-read safety and compliance news right to your email box.