First 10 chemicals identified for TSCA review
Posted December 6, 2016
On November 29, EPA announced the first 10 chemicals it will evaluate for potential risks to human health and the environment under the newly revised Toxic Substances Control Act (TSCA). Congress required EPA to publish this list of chemicals for review by December 19, 2016. The top ten chemicals were selected from EPA's 2014 TSCA Work Plan, which includes 90 chemicals with the potential for high hazard and exposure.
Next, EPA will complete risk evaluations for these chemicals within three years to determine whether they present an "unreasonable risk to humans and the environment." If EPA determines that a chemical does present an unreasonable risk, the agency must mitigate that risk within two years.
Under TSCA, as amended by the Frank R. Lautenberg Chemical Safety for the 21st Century Act, EPA must also release a scoping document within six months for each of the ten chemicals. The document will include each chemical's hazard(s), exposure(s), conditions of use, and the potentially exposed or vulnerable subpopulation(s) the agency plans to consider for the evaluation.
EPA says that additional chemicals will be designated for evaluation, and all of the remaining 80 Work Plan chemicals will be reviewed for their potential hazards and exposure. In fact, for every risk evaluation that the agency completes, TSCA requires that EPA begin another. EPA is required to have at least 20 chemicals risk evaluations ongoing at any given time by the end of 2019.
The first ten chemicals EPA will evaluate are:
Asbestos
Carbon Tetrachloride
Cyclic Aliphatic Bromide Cluster
Methylene Chloride
N-methylpyrrolidone
Pigment Violet 29
Tetrachloroethylene, also known as perchloroethylene
Trichloroethylene
1,4-Dioxane
1-Bromopropane
---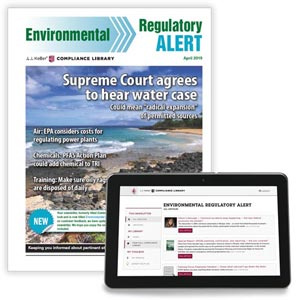 J. J. Keller's Environmental Alert: The Compliance Guide for Safety Professionals helps you stay on top of the latest environmental enforcement issues.
---
J. J. Keller's FREE Workplace SafetyClicks™ email newsletter brings quick-read workplace safety and compliance news right to your email box.