Final rule protects consumers from formaldehyde emissions in composite wood products
Posted December 16, 2016
EPA published the final rule to implement the Formaldehyde Standard for Composite Wood Products Act, which added Title VI to the Toxic Substances Control Act (TSCA). The purpose of TSCA Title VI is to protect workers and consumers from emissions of formaldehyde from composite wood products found in veneer, plywood, mobile homes, prefabricated wood buildings, furniture stores, and various other building trades and materials.
The final rule contains provisions on labeling, chain of custody requirements, ultra-low emitting formaldehyde resins, no-added formaldehyde-based resins, finished goods, third-party testing and certification, auditing and reporting of third party certifiers, recordkeeping, enforcement, laminated products, and exceptions from regulatory requirements for products and components containing de minimis amounts of composite wood products.
The emissions standards in the final rule are consistent with the requirements currently in effect in California under the California Air Resources Board's Air Toxics Control Measure to Reduce Formaldehyde Emissions from Composite Wood Products.
The rule becomes effective on December 12, 2017. After that date, hardwood plywood made with either a combination core or a veneer core, particleboard, and medium-density fiberboard must be manufactured in compliance with the new rule. The manufactured-by date for laminated products is December 12, 2023. Before that date, laminated product producers must use compliant composite wood products platforms and comply with the recordkeeping and labeling requirements for fabricators. After that date, laminated products that are exempt from the definition of hardwood plywood must also keep records demonstrating their eligibility for the exemption. Other laminated products will have to be made in compliance with the testing and third-party certification requirements for hardwood plywood.
Formaldehyde is a colorless, flammable gas at room temperature. In 1991, EPA classified formaldehyde as a probable human carcinogen.
---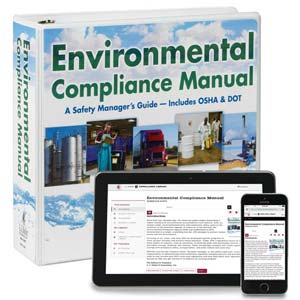 J. J. Keller's Environmental Compliance Manual is packed with easy-to-understand information on regulations, environmental issues and compliance.
---
J. J. Keller's FREE Workplace SafetyClicks™ email newsletter brings quick-read workplace safety and compliance news right to your email box.