EPA releases 2016 enforcement results
Posted December 29, 2016
EPA unveiled its 2016 annual enforcement and compliance results, calling attention to its new emphasis on Supplemental Environmental Projects (SEPs). SEPs are additional projects companies agree to undertake in lieu of, or in addition to, monetary penalties for environmental violations. During EPA's 2016 fiscal year — which spanned October 1, 2015, to September 30, 2016 — companies agreed to $13.7 billion in these supplemental projects.
Further, EPA reports it secured enforceable commitments that ensure the proper treatment, storage, and disposal of an estimated 62 billion pounds of hazardous waste, most of which comes through a settlement with a fertilizer corporation operating in Florida and Louisiana.
EPA calls two landmark settlements in 2016 "among the most comprehensive and impactful environmental cases in U.S. history." An April 4, 2016, agreement with an oil company resulted in a $20.8 billion settlement to resolve Clean Water Act violations, along with more than $20 billion in SEPs.
On October 25, 2016, a global auto maker agreed to spend up to $14.7 billion on SEPs to reduce air pollution, remedy environmental damage, and buy back vehicles to settle allegations of cheating emissions tests.
Key enforcement results in FY 2016
EPA reports the following:
More than $1 billion in commitments from responsible parties to clean up Superfund sites, and return $55 million to the Superfund trust.
Commitments from companies to reduce, treat, or eliminate releases of pollution by an estimated 324 million pounds per year.
Clean up of an estimated 174 million cubic yards of contaminated water or aquifers and 17 million cubic yards of contaminated soil.
A combined $6 billion in federal administrative, civil judicial penalties and criminal penalties.
$207 million in criminal fines and restitution, and a combined 93 years of incarceration for criminal violations of federal environmental laws.
---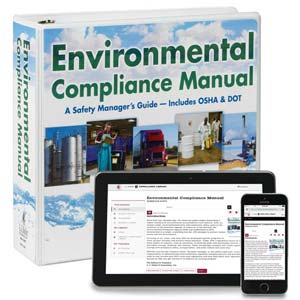 J. J. Keller's Environmental Compliance Manual is packed with easy-to-understand information on regulations, environmental issues and compliance.
---
J. J. Keller's FREE Workplace SafetyClicks™ email newsletter brings quick-read workplace safety and compliance news right to your email box.