Representatives introduce legislative proposals in response to 'fiduciary rule'
Posted December 23, 2015
On December 18, Republican and Democratic lawmakers introduced legislative proposals that are intended to help retirement advisors serve their clients' best interests and preserve access to quality financial planning. The proposals reflect a set of bipartisan principles members introduced in response to a Department of Labor (DOL) regulatory proposal that has raised red flags that the rule would cause a reduction in access to financial advice for low- and middle-income families.
Overview
The DOL has been working since 2010 to revise the definition of "fiduciary" in order to address possible conflicts of interest for individuals who give investment advice. A financial advisor giving investment advice for a fee might personally benefit by suggesting specific investments, so the DOL wants to include such individuals under the definition of a fiduciary, since a fiduciary must act in the best interests of plan participants.
Known as the "fiduciary rule," the DOL's regulatory proposal will impose new mandates and regulatory requirements on financial advisors. Bipartisan concerns have been raised that the proposal could cause individuals to lose access to trusted financial advisors, raise the cost of receiving financial advice, and lead to fewer small businesses offering retirement plans. In response, Republican and Democratic lawmakers introduced a set of principles.
Those principles are reflected in the introduced legislative proposals. The Strengthening Access to Valuable Education and Retirement Support (SAVERS) Act, led by Rep. Roskam, and the Affordable Retirement Advice Protection (The ARAP) Act, led by Rep. Roe, would require an affirmative vote by Congress before any final rule by the DOL goes into effect. If Congress fails to approve the department's regulatory proposal, a new fiduciary standard would take effect that would:
Require advisors to serve in their clients' best interests;
Penalize financial professionals who violate the trust of their clients; and
Require advisors to clearly communicate key information to ensure investors are well-informed to make investment choices.
According to the bills' sponsors, these proposals will raise investment advice standards for the retirement industry to ensure financial advisers act in the best interests of their clients, while also ensuring low- and middle-income Americans have access to quality, affordable financial advice to help plan for retirement.
---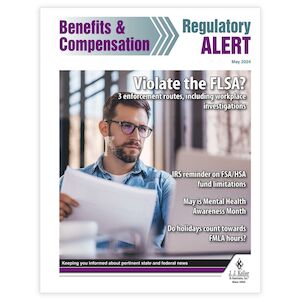 J. J. Keller's BottomLine Benefits & Compensation is an 8-page, monthly newsletter that addresses key issues relating to benefits and compensation programs.
---
J. J. Keller's FREE HRClicks™ email newsletter brings quick-read human resources-related news right to your email inbox.