FLSA overtime rule could be published July 2016, agenda shows
Posted December 2, 2015
On November 19, federal agencies released the Fall 2015 Unified Agenda and Regulatory Plan. The agenda showed several noteworthy items regarding employment law including finalizing the Fair Labor Standards Act (FLSA) overtime rule, "persuader" rule, and wellness programs under the Americans with Disabilities Act (ADA) and the Genetic Information Non-Discrimination Act (GINA) rule.
Final rules
The FLSA overtime final rule has a projected July 2016 publication date. The rule modernizes and streamlines the existing overtime regulations for executive, administrative, and professional employees under the FLSA, including revising the salary level. According to the DOL, the changes would allow more workers to earn time and half for extra hours worked.
Slated to be published in March 2016 is the "Persuader" final rule. The revisions to the Labor-Management Reporting and Disclosure Act (LMRDA) would narrow the "advice" exemption from reporting requirements that apply to employers and other persons in connection with persuading employees about the right to organize and bargain collectively.
The wellness programs under the ADA and Gina rule is listed to be published in February 2016. The rule addresses incentives to employees' spouses or other family members who respond to questions about their current or past medical conditions on health risk assessments (HRA).
RFI
Scheduled for February 2016 is the Electric Devices Request for Information (RFI). The Impact of the use of Electric Devices by Nonexempt Employees on Hours Worked rule addresses the use of technology, including portable electronic devices, by employees away from the workplace and outside of scheduled work hours for purposes of the "hours worked" concept under the FLSA.
Analyzing comments
According to the Employee Benefits Security Administration (EBSA), the agency will be analyzing comments in December 2015 on the Conflict of Interest Rule — Investment Advice. The agency has not currently provided any indication of an official publication date. The rule is intended to treat persons who provide investment advice or recommendations to an employee benefit plan, plan fiduciary, plan participant or beneficiary, IRA, or IRA owner as fiduciaries under the Employee Retirement Security Act (ERISA) and the Internal Revenue Code in a wider range of advice relationships than currently exists.
---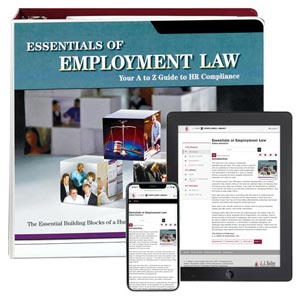 J. J. Keller's Employment Law Essentials Manual covers more than 100 vital HR topics, including FMLA, ADA, HIPAA, FLSA, COBRA and more.
---
J. J. Keller's FREE HRClicks™ email newsletter brings quick-read human resources-related news right to your email inbox.