Could you be next in line for an FMLA compliance check?
Posted December 18, 2015
"Knock-knock."
"Who's there?"
"The U.S. Department of Labor's Wage and Hour Division."
**Gulp**
If you would happen to find yourself in such a scenario, how would you (and your company) fare? How would your managers and supervisors perform when answering an investigator's questions?
Family and Medical Leave Act (FMLA) compliance checks may be initiated on a random basis or on the basis of an employee complaint. They generally involve a review of the employer's records, discussions with the employer, and interviews with employees.
The Department of Labor's Wage and Hour Division (WHD), which enforces the FMLA, does not require an investigator to previously announce the scheduling of an investigation, although in many instances the investigator will advise an employer prior to opening the investigation. The investigator has sufficient latitude to initiate unannounced investigations in many cases in order to directly observe normal business operations and gather factual information quickly.
The WHD conducts investigations for a number of reasons, all having to do with enforcement of laws such as the FMLA, and assuring an employer's compliance. WHD does not typically disclose the reason for an investigation to the employer. Many, but not all, investigations are initiated by complaints.
In addition to complaints, WHD selects certain types of businesses or industries for investigation. The WHD targets low-wage industries, for example, because of high rates of violations or egregious violations, the employment of vulnerable workers, or rapid changes in an industry such as growth or decline. Occasionally, a number of businesses in a specific geographic area will be examined. Regardless of the particular reason that prompted an investigation, all investigations are conducted in accordance with established policies and procedures.
The WHD has indicated that it is sniffing out systemic issues that affect multiple employees and/or multiple employer locations. For example, if your supervisors and managers have a tendency to require employees to perform some work while on leave, perhaps from home, you could have a systemic issue on your hands. Or perhaps supervisors and managers fail to get the FMLA ball rolling after being put on notice of the need for leave by an employee, thereby putting the company at risk of not providing the applicable notices to the employee in time. The WHD has been taking those time frames seriously.
The best defense, of course, is a good offense. Therefore, performing an FMLA audit before the WHD does can help you discover issues and deal with them with no risk of penalties. If you wait until the WHD performs the audit, you might learn how to be compliant, but it might be an expensive lesson.
---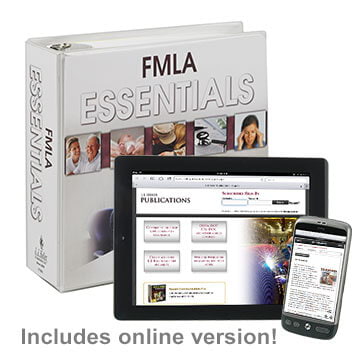 J. J. Keller's FMLA Essentials manual helps HR pros understand and comply with the requirements, control costs related to leave taken and minimize the law's potential disruption to their organizations' operations.
---
J. J. Keller's FREE HRClicks™ email newsletter brings quick-read human resources-related news right to your email inbox.