Agencies produce joint guidance for employers on internal Form I-9 audits
Posted December 21, 2015
On December 14, the Department of Justice's Civil Rights Division and the Department of Homeland Security's U.S. Immigration and Customs Enforcement (ICE) announced the issuance of a joint Guidance for Employers Conducting Internal Employment Eligibility Verification Form I-9 Audits.
Under the Immigration and Nationality Act (INA), employers are required to verify the work-authorization of their employees using the Form I-9 and are prohibited from knowingly hiring unauthorized workers. According to ICE, employers seeking to ensure their Form I-9 practices comply with federal law are increasingly conducting internal audits of their Forms I-9. To help ensure that these audits are conducted properly and do not discriminate against employees, ICE and the Office of Special Counsel (OSC) have collaborated to issue formal guidance on the topic.
The guidance provides employers with information regarding:
The scope and purpose of audits;
Considerations before conducting internal audits;
Details regarding how to correct errors;
Omissions or other deficiencies found on Forms I-9 and how to cure deficiencies related to E-Verify queries; and
Guidance regarding the anti-discrimination mandate.
The joint guidance can be found on ICE's website and on the Civil Rights Division's Office of Special Counsel for Immigration-Related Unfair Employment Practices (OSC) website.
---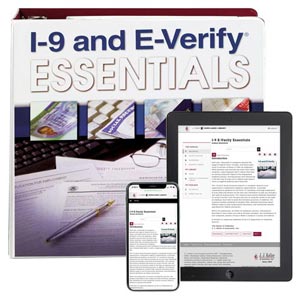 J. J. Keller's I-9 and E-Verify Essentials Manual helps you avoid I-9 errors and costly penalties related to the employment authorization process.
---
J. J. Keller's FREE HRClicks™ email newsletter brings quick-read human resources-related news right to your email inbox.