Train workers to avoid take-home lead
Posted November 9, 2023
Common jobs with lead exposure include painting, battery manufacturing, building renovation, and shooting range work. For workers in these industries and others, it's possible to accidentally carry lead home from work via skin, hair, clothing, shoes, and personal items. Take-home lead can contaminate a worker's car and home, posing an exposure risk to others. A new NIOSH publication notes the hazards of lead and outlines steps to minimize the risk of bringing it home.
Workers can minimize take-home lead by:
Limiting the number of personal items brought to work;
Using disposable containers for food/drink;
Changing into work clothes that remain at work;
Storing clean clothes and other personal items in a dedicated area;
Practicing proper handwashing;
Eating and drinking in approved areas away from dust;
Wearing personal protective equipment (PPE);
Using high-efficiency particulate air (HEPA) vacuums or wet methods to clean areas that have lead;
Following manufacturer's instructions for PPE removal;
Storing work clothes in a closed plastic bag away from other clothes;
Washing and drying work clothes away from other items;
Removing work shoes before entering their home;
Showering soon after arriving home;
Cleaning their home and car often; and
Using appropriate cleaning supplies to clean up lead.
Workers should also have their blood checked for the presence of lead by a medical provider.
This article was written by Carmen King of J. J. Keller & Associates, Inc.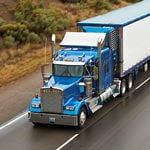 Looking for more information on transportation safety?
Get the information and products you need to stay on top of industry changes and comply with regulations.