NRLB and OSHA team up to combat workplace violations
Posted November 9, 2023
The National Labor Relations Board (NLRB) and Occupational Safety and Health Administration (OSHA) signed an agreement enhancing their ability to share information with each other about potential employee rights and safety violations.
NLRB General Counsel Jennifer A. Abruzzo and OSHA Assistant Secretary of Labor Douglas Parker signed a memorandum of understanding on October 31 where they agreed to:
Establish a process for more broadly sharing information,
Conduct cross-training for staff at each agency,
Partner on investigative efforts, and
Enforce anti-retaliation provisions.
The agencies are both responsible for protecting employee activities relating to employee rights, safety, and health in the workplace. Although the agencies have been coordinating their efforts since 1975, the new memorandum expands their ability to share information and data with each other.
Under the new memorandum, for example, an OSHA inspector may provide NLRB contact information to employees who may have experienced unfair labor practices. Likewise, the NLRB will share information with OSHA related to workers who are likely exposed to a safety or health hazard. The memorandum is the latest in a series of agreements between federal agencies. In September, the Department of Labor (DOL) and Equal Employment Opportunity Commission (EEOC) agreed to work more closely together, and the NLRB signed an agreement with the DOL in 2022.
This collaboration among federal agencies increases the potential for workplace violations to be uncovered and reported. Employers should prepare by ensuring safe, compliant work environments for employees.
Key to remember: An investigation being conducted by OSHA or NLRB may be broader than employers realize.
This article was written by Terri Dougherty of J. J. Keller & Associates, Inc.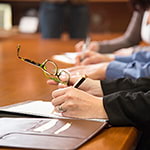 Looking for more on HR compliance?
Get the information and products you need to stay on top of industry changes and comply with regs.