EPA deletes de minimis exemption for TRI-listed PFAS
Posted November 3, 2023
The Environmental Protection Agency (EPA) finalized a rule impacting all reporting facilities that manufacture, process, or otherwise use per- and polyfluoroalkyl substances (PFAS) subject to Toxics Release Inventory (TRI) reporting (listed at 40 CFR 372.65). Per the pre-publication notice on October 18, the agency is:
Designating all TRI-listed PFAS as "chemicals of special concern," and
Removing the de minimis exemption for supplier notification requirements to downstream facilities for all chemicals on the list of chemicals of special concern.
Impact on reporting entities
The final rule categorizes all PFAS on the TRI as chemicals of special concern. This action:
Eliminates the de minimis exemption, which allowed facilities to avoid reporting information on PFAS that were used in small (de minimis) quantities (below the 100-pound threshold);
Removes eligibility to use reporting Form A, which simplified reporting for facilities that didn't exceed the thresholds for the total annual reportable amount of PFAS (500 pounds) and for the amounts of PFAS manufactured, processed, or used (1 million pounds); and
Limits range reporting for PFAS.
Reporting facilities will now be required to report all quantities of PFAS they manage or release into the environment.
Additionally, EPA eliminated the de minimis exemption for the supplier notification requirements (at 372.45) to downstream facilities for facilities that manufacture or process any chemical on the list of chemicals of special concern. Previously, suppliers weren't required to notify product users of certain chemicals present in mixtures if their concentrations were less than 1 percent (less than 0.1 percent for carcinogens). Suppliers will now be required to notify users of any amount of a chemical of special concern contained in the mixture.
Future PFAS added to TRI
The final rule also stipulates that when PFAS are added to the TRI in the future, they will also be added to the list of chemicals of special concern on the same date. This helps EPA avoid delays in reporting requirements since the 100-pound reporting threshold for PFAS will remain in the regulations.
This article was written by Adriana Lucus of J. J. Keller & Associates, Inc.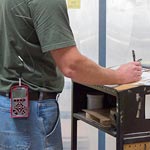 Looking for more on workplace safety?
Get the information and products you need to stay on top of industry changes and comply with regs.