Registration opens for new Connecticut highway use fee
Posted November 17, 2022
To facilitate collection of the new Highway Use Fee, Connecticut has opened registration for the program on their online portal, myconneCT.
As of January 1, 2023, a Highway Use Fee will be imposed on certain carriers for the privilege of operating, or causing to be operated, certain heavy, multi-unit motor vehicles on any highway (i.e., public road) in Connecticut.
The Highway Use Fee is calculated based on a vehicle's weight and number of miles driven in the state. The fee applies to calendar months beginning on or after January 1, 2023.
Carriers will be required to register with DRS for the Highway Use Fee by January 1, 2023. After registering, a Highway Use Fee Permit will be available in myconneCT (DRS' online filing and paying portal).
The first Highway Use Fee return is due on or before February 28, 2023.
For more information and to register for the Highway Use Fee, visit the DRS website at portal.ct.gov/DRS.
This article was written by Corrina Peterson of J. J. Keller & Associates, Inc.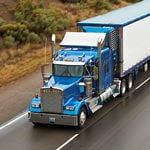 Looking for more on transportation safety?
Get the information and products you need to stay on top of industry changes and comply with regs.