OSHA's monkeypox fact sheet emphasizes training, PPE for healthcare workers
Posted November 18, 2022
OSHA's recently released monkeypox fact sheet emphasizes training and PPE for healthcare workers. While the risk for monkeypox is extremely low in most work settings, it's higher for healthcare workers and first responders.
These workers should be trained on the following work practices (and how to use personal protective equipment (PPE):
Be alert for people who have rashes or symptoms consistent with monkeypox.
Isolate people with monkeypox infection from others and cover skin lesions.
Avoid skin-to-skin contact with people who are ill or have visible lesions.
Avoid unprotected contact with any potentially contaminated materials.
Practice good hand hygiene.
This article was written by Rachel Krubsack of J. J. Keller & Associates, Inc.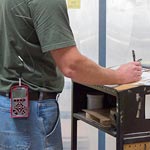 Looking for more on workplace safety?
Get the information and products you need to stay on top of industry changes and comply with regs.