OSHA LEP targets food manufacturers in IL, OH
Posted November 4, 2022
A new OSHA Local Emphasis Program (LEP) targets food manufacturers in Illinois and Ohio. OSHA says the LEP provides the authority to evaluate employers' workplace(s) at all programmed, un-programmed, or other limited-scope inspections pertaining to food production operations to assure employees are being properly protected. It took effect October 3, 2022, and includes a three-month outreach period; enforcement activities will begin in January 2023.
OSHA says the intent of the LEP is to encourage employers to take steps to identify, reduce, and eliminate hazards associated with exposure to machine hazards during production activities, and off-shift sanitation, service, and maintenance tasks.
Outreach activities will include letters to employers, training sessions with stakeholders, electronic information-sharing activities, public service announcements, and news release broadcasts. Enforcement activities will begin not earlier than three months after outreach is initiated and will include, but not be limited to, the inspection and review of production operations, and working conditions; injury and illness records; safety and health programs; and hazardous energy control methods, to identify and correct workplace hazards at all applicable inspection sites.
This article was written by Rachel Krubsack of J. J. Keller & Associates, Inc.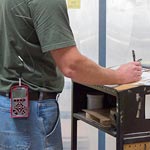 Looking for more on workplace safety?
Get the information and products you need to stay on top of industry changes and comply with regs.