Annual DOT inspections now include rear bumpers
Posted November 13, 2021
The FMCSA has issued a new rule that adds rear impact guards to the list of criteria for passing an annual vehicle inspection. The criteria include details on the condition, placement, and size of the bumper, depending on vehicle type and year of manufacture.
This means:
Your inspectors and technicians will need to become familiar with the bumper inspection standards, and
Your annual inspection forms will need to be updated to include "rear impact guard" as one of the items inspected.
The bumper inspection standards are now found in Appendix A to Part 396 and must be used when performing DOT annual vehicle inspections as of December 9, 2021. Refer to §393.86 for exceptions.
Other changes
As part of the new rule, the FMCSA revised §393.86 (the bumper regulation) to:
Allow the DOT certification label to be placed on either the front or back side of the horizontal beam on an underride guard, rather than requiring it to be on the forward-facing surface. This permanent label is applied by the bumper manufacturer, not motor carriers, and the rule change simply aligns the FMCSA's rules with current manufacturing standards.
Exempt "road construction controlled horizontal discharge trailers" from the need for a rear underride guard.
This article was written by Daren Hansen of J. J. Keller & Associates, Inc.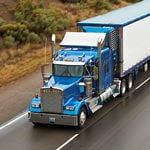 Looking for more on transportation safety?
Get the information and products you need to stay on top of industry changes and comply with regs.