Your remote workers might need new posters in 2021
Posted November 23, 2020
Remote work came into its own in 2020. Many workers set up shop in home offices, or at the dining room table, to help stop the spread of COVID-19.
While this is great for social distancing, it brings up posting compliance questions for workers who no longer have access to posters in the workplace.
How I comply with posting requirements when I have remote workers?
While you can send physical posters to remote workers, the most practical solution is to use electronic postings on your company's intranet. The Equal Employment Opportunity Commission suggests this, noting on its posting website that electronic posting may be required for employees who telecommute.
Most posting regulations do not specifically address remote workers, because they were written before working from home was a possibility. A few newer ones do include posting requirements for telecommuters, however. Colorado's minimum wage and paid sick leave laws, for example, require employers to provide remote workers with the same notices employees see posted in the workplace.
While most employment laws are silent on the issue of remote employees, electronic posting is an effective way to make sure all employees have access to labor law posters.
Which new posters are required in 2021?
A number of states will be updating minimum wage posters in 2021, and a few others will make mandatory posting changes that relate to paid sick leave and other laws. You'll want to make sure to display these updated posters in the workplace, as well as make them available to remote employees.
Here's a look at the posting revisions effective in January:
Alaska — Minimum Wage
Arizona — Minimum Wage
California — Minimum Wage, CFRA
Colorado — Overtime & Minimum Pay Standards; Paid Leave
Florida — Minimum Wage
Louisiana — Earned Income Credit
Maine — Minimum Wage; Regulation of Employment
Minnesota — Minimum Wage
Missouri — Minimum Wage
Montana — Minimum Wage
New Mexico — Minimum Wage
New Jersey — Minimum Wage
New York — Minimum Wage (December 31)
Ohio — Minimum Wage
South Dakota — Minimum Wage
Vermont — Minimum Wage
Virginia — Earned Income Credit
Washington — Minimum Wage; Your Rights as a Worker
All these changes are mandatory, except for the minimum wage posting updates in South Dakota, Montana, and Washington. These states make updated minimum wage posters available, but employers are not required to post them. It's still a good idea to display the latest poster to make employees aware of the most recent rate.
Which posters do remote workers need?
Remote employees should have access to federal postings as well as state and local posters that apply to the location they're working from.
If you have an employee lucky enough to be working from home in Hawaii, for example, make sure the Hawaii postings are available to that employee.
Physical posters should always be posted in the office. For employees who are working from home, a great option is to make electronic posters available.
Where can I find more information?
You can also find more information about state electronic postings, see the Electronic Postings site on www.jjkeller.com. For more information on posting changes, see the Recent and Potential Changes Report on www.jjkeller.com.
This article was written by Terri Dougherty of J. J. Keller & Associates, Inc.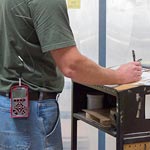 Looking for more on workplace safety?
Get the information and products you need to stay on top of industry changes and comply with regs.