Voters in 5 states approve marijuana measures
Posted November 17, 2020
Voters in five states passed ballot initiatives legalizing recreational and medical marijuana on November 3.
South Dakota became the first state to legalize both recreational and medical marijuana in the same election. Recreational marijuana was also legalized in Arizona, Montana, and New Jersey, and medical marijuana was approved in Mississippi.
The measures bring the number of states with legalized medical marijuana to 35. Recreational marijuana has been legalized by 15 states.
State laws vary. The increase in the number of states with legalized marijuana makes it more important than ever for employers to review drug and alcohol policies and drug testing provisions to make sure they comply with state laws.
Before taking action against an employee or applicant for marijuana use, employers should be familiar with any state restrictions
Marijuana remains a Schedule 1 drug under the federal Controlled Substances Act. Over the past few years, however, courts have been looking to state laws when deciding cases related to marijuana use.
Federally regulated employees need to continue to abide by federal law. Employees regulated by the U.S. Department of Transportation face consequences for a positive drug test for marijuana, no matter which state they are in.
This article was written by Terri Dougherty of J. J. Keller & Associates, Inc.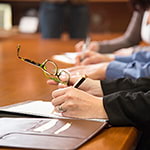 Looking for more on HR compliance?
Get the information and products you need to stay on top of industry changes and comply with regs.