The FFCRA is set to expire
Posted November 25, 2020
Congress has shown no sign that it will extend the employee leave provisions of the Families First Coronavirus Response Act (FFCRA), so it is set to expire on December 31, 2020. As such, covered employers have a few details to consider. Some of those considerations include the following:
They may simply choose to stop any current paid leave employees are taking and deny any related leave requests as of January 1, as the obligation to provide that paid leave will end.
Allow employees currently on leave to continue taking the rest of the leave.
Allow employees who are not currently on leave to take such leave in the future.
Whatever choices employers make, they should communicate them clearly to employees.
Other laws, such as state laws, however, could apply, providing employees with additional protections. Of course, if an employee or family member has a serious health condition (which can include COVID-19), the traditional FMLA could apply.
If an employee's COVID-19 results in longer-term limitations, the employee could also be protected by the Americans with Disabilities Act (ADA). Providing leave has been seen as a reasonable accommodation under the ADA.
After December 31, employers who do provide paid leave for the FFCRA qualifying reasons will not be able to apply for the tax credits as has been allowed.
The goal of the FFCRA was to help keep the virus out of the workplace, trying to curb the spread. That goal was met, as employees had enough incentive to not go to work when infected or potentially infected. Since the virus is continuing to spread, allowing employees to take leave — particularly paid leave — can continue to help curtail the spread.
An employee may have, for example, taken the 80 hours of emergency paid sick leave earlier this year because she was subject to a quarantine order. Now that same employee may have been exposed and is medically advised to self-quarantine. Since employees are entitled to only one batch of 80 hours of emergency paid sick leave, that employee would not be entitled to more, but could risk bringing the virus into the workplace.
Employee screening can only go so far. If an employee needs the pay to get by, she may deny the medical advice to quarantine and go to work. If she has no symptoms, screenings will be fairly ineffective. Some sources indicate that about 40 percent of infected individuals will have no symptoms.
A new administration could provide more leave in the future, but much remains to be seen. Until then, employers need to begin thinking about their next steps.
This article was written by Darlene Clabault of J. J. Keller & Associates, Inc.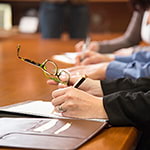 Looking for more on HR compliance?
Get the information and products you need to stay on top of industry changes and comply with regs.