FMCSA rule clarifies agricultural commodity
Posted November 25, 2020
The Federal Motor Carrier Safety Administration (FMCSA) clarified its definition of agricultural commodity as it relates to federal hours-of-service (HOS) exemptions. The agency revised §395.2 in a recent Interim Final Rule that is effective December 9, 2020.
Motor carriers transporting agricultural commodities need to clearly understand the terms within the definition in order to determine whether they qualify for HOS breaks.
Changes to §395.2, Definitions
The term agricultural commodity had been broad in nature and created confusion on what cargo qualifies under the HOS rules. As a result, FMCSA revised its definitions in §395.2 to clarify several terms within the "agricultural commodity" definition.
"Any agricultural commodity" was revised to mean horticultural products at risk of perishing, or degrading in quality, during transport by commercial motor vehicle, including plants, sod, flowers, shrubs, ornamentals, seedlings, live trees, and Christmas trees.
"Livestock" now means livestock as defined in sec. 602 of the Emergency Livestock Feed Assistance Act of 1988 [7 U.S.C. 1471], as amended, insects, and all other living animals cultivated, grown, or raised for commercial purposes, including aquatic animals.
"Non-processed food" was added to the list of definitions. It means food commodities in a raw or natural state and not subjected to significant post-harvest changes to enhance shelf life, such as canning, jarring, freezing, or drying. The term includes fresh fruits and vegetables, and cereal and oilseed crops which have been minimally processed by cleaning, cooling, trimming, cutting, chopping, shucking, bagging, or packaging to facilitate transport by commercial motor vehicle.
HOS exemptions for agricultural commodities
Federal rules offer an exemption from the HOS requirements for drivers transporting agricultural commodities, from the source of the commodities to a location within 150 air miles of the source, during harvest and planting seasons as defined by each state.
In addition, the 30-minute rest break does not apply to drivers transporting livestock in interstate commerce while the livestock are on the commercial motor vehicle.
The changes to the definitions in §395.2 will help ensure that the HOS exemptions in §§395.1(k)(1) and 395.1(v) are consistently understood and enforced.
This article was written by Kathy Close of J. J. Keller & Associates, Inc.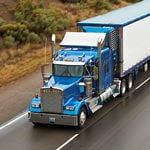 Looking for more on transportation safety?
Get the information and products you need to stay on top of industry changes and comply with regs.