Critical violations sideline 13.5% of CMVs during Brake Safety Week
Posted November 18, 2019
Brake-related violations sent 13.5 percent of inspected commercial motor vehicles (CMVs) out-of-service during the Commercial Vehicle Safety Alliance (CVSA) Brake Safety Week in September.
Inspectors conducted 34,320 inspections of CMVs the week of September 15 to 21, 2019, placing 4,626 vehicles out-of-service after critical brake-related conditions were identified during roadside inspections.
When a vehicle is placed out-of-service due to a critical violation, motor carriers must correct the violation before the vehicle can proceed.
Other data collected during Brake Safety Week included:
2,567 vehicles had chafed rubber hose violations;
1,347 vehicles had chafed thermoplastic hose violations;
2,704 violations of §393.45 of the Federal Motor Carrier Safety Regulations (FMCSRs) and Canadian equivalent included chafed rubber hoses; and
1,683 violations of §393.45 of the FMCSRs and Canadian equivalent violations included kinked thermoplastic hoses.
This article was written by Dave Lubach of J. J. Keller & Associates, Inc.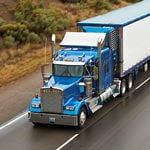 Looking for more on transportation safety?
Get the information and products you need to stay on top of industry changes and comply with regs.