Court of Appeal upholds Cal/OSHA citations issued for inadequate PPE
Posted November 18, 2019
A Court of Appeal recently upheld Cal/OSHA citations issued to a home improvement company for violating safety standards after a warehouse employee suffered a serious foot injury in 2014. Cal/OSHA's investigation found warehouse workers were not provided protective footwear such as steel-toed shoes in an area where industrial vehicles were operating.
The company appealed the citations and the Occupational Safety and Health Appeals Board (OSHAB) affirmed them, finding that employees were exposed to foot injuries when manually lifting loads and when working in close proximity to industrial trucks. The board ruled that the company's lifting safety policy and prohibition of open-toed or open-heeled shoes were not adequate to protect workers.
The Court of Appeal ruled to uphold both OSHAB's decision and Cal/OSHA's citations.
This article was written by Rachel Krubsack of J. J. Keller & Associates, Inc.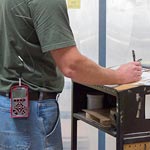 Looking for more on workplace safety?
Get the information and products you need to stay on top of industry changes and comply with regs.