Key employees are entitled to FMLA leave
Posted November 8, 2018
TThe company had been growing every year and this year was a critical one. Jerry, the COO had helped take the company from a small, five-employee start-up to a robust 500-employee enterprise. When he asked to take time off for a knee replacement, Kayla, the company's HR director, remembered hearing something regarding special provisions in the Family and Medical Leave Act (FMLA) regarding "key" employees. She would need to investigate that, as she wondered if the company could even deny the leave request.
The basic provisions of the FMLA include job-protected leave and group health coverage continuation while on leave. Since an employee's job is protected, he or she is entitled to return to the position held or an equivalent one. Reinstatement after leave under the FMLA, however, is not without its limitations. One such limitation relates to "key" employees. Key employees are entitled to the leave; the limitation involves only the employee's reinstatement rights.
In order to deny reinstatement, you must jump through some administrative hoops, beginning when the employee puts you on notice of the need for leave. If you think you might be inclined to deny restoration, you must determine whether the employee is a key employee, and indicate that determination in the notice. Despite who you may think is a "key" employee, the FMLA regulations provide a definition.
A "key" employee is a salaried FMLA-eligible employee who is among the highest paid 10 percent of all company employees within 75 miles of the employee's worksite. Breaking down this definition, first, the employee must be paid on a salary basis, per the Fair Labor Standards Act). Second, in determining the highest paid 10 percent, you are to take the employee's year-to-date earnings and divide that number by the number of weeks the employee worked, including weeks the employee took paid leave. You should include wages, premium pay, incentive pay, and non-discretionary and discretionary bonuses. You need not include incentives whose value is determined at some future date, such as stock options or benefits.
From there, you must determine whether substantial and grievous economic injury to your operations would result from job restoration. Unfortunately, the FMLA does not provide real clear guidance or definition of what constitutes substantial and grievous economic injury. If it threatens the organization's economic viability, it will likely meet the requirement. This is designed to be a fairly high threshold.
If you have figured all that out, you need to indicate your determination in the eligibility/rights & responsibilities notice. If you need more time beyond the five-day window required to provide this notice, you need to let the employee know about your determination as soon as practicable. You must also explain how you made this determination and that you do, indeed, intend to deny reinstatement after FMLA leave.
If the employee's leave has already begun when you notify him or her about your determination, you must provide the employee a reasonable opportunity to return to work.
Even if the employee does do not return to work after learning that you plan to deny you reinstatement, he or she is still entitled to request reinstatement at the end of the leave. This will trigger your obligation to again determine whether reinstatement would cause substantial and grievous injury based on the circumstances at that time.
If you fail to meet all these requirements, you could lose the right to deny reinstatement. Many employers do not take advantage of this provision. If, however, you think you might deny restoration to a key employee, you might want to identify who your key employees are, and whether their reinstatement could cause the appropriate level of injury, before any of them even ask for leave.
This article was written by Darlene M. Clabault, SHRM-CP, PHR, CLMS, of J. J. Keller & Associates, Inc.
---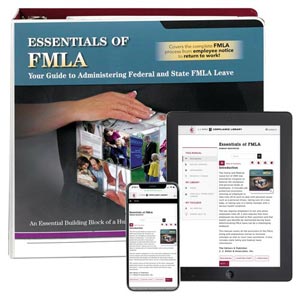 J. J. Keller's Essentials of FMLA manual helps HR pros understand and comply with the FMLA rules, control costs related to leave taken, and minimize the law's potential disruption to their organizations' operations.
---
J. J. Keller's FREE HRClicks™ email newsletter brings quick-read human resources-related news right to your email inbox.