When installing Blue Roofs, ALWAYS avoid electrical hazards
Posted November 28, 2017
A new OSHA Fact Sheet explains how to keep workers safe when working on roofs to install reinforced plastic tarps, commonly called "Blue Roofs." These tarps serve as temporary protection for the roofs of homes and other buildings damaged during severe weather such as hurricanes and tornadoes.
When employees work on buildings to install Blue Roofs, they are at risk of falls, electrocutions, and other hazards. OSHA's fact sheet recommends employers and employees take the following steps:
Identify the hazards and ALWAYS avoid electrical hazards.

Watch for downed overhead power lines and treat all power lines as "live."
Note that generators can energize lines that are not actively receiving power from the electrical grid.
Contact the utility company to ensure lines are de-energized.
Do not use a metal ladder near power lines or close to energized electrical equipment.

Ensure the roof is stable enough and has enough structural integrity to allow employees to work on it.
Select the proper fall protection system(s) employees will use while installing the tarp.

For low-slope roofs, use conventional fall protection with or without a warning line system; a warning line system with a monitor; or a monitor alone on small roofs.
For steep roofs, only conventional fall protection systems may be used.
When installing the tarp, take the following actions:
Never install a tarp during a storm.
Use proper protective equipment such as hard hats and eye protection and/or other control measures such as chutes and barricaded areas when removing roof debris.
Remove roof debris using a roof rake or brush from ground level. When using a ladder, use proper safety techniques to prevent falls.
Whenever possible, avoid getting on the roof when tasks can be completed from ladders or other stable platforms.
Lean the ladder at a safe angle (a 4:1 ratio) and make sure the ladder extends three feet above the roof edge.
Watch for tripping hazards including vent stacks, satellite dishes, lightning arresting components and cables, and cleats holding down the tarp.
Do not walk on a tarp, which can be very slippery.
Watch for skylights and other openings that have been tarped over.
---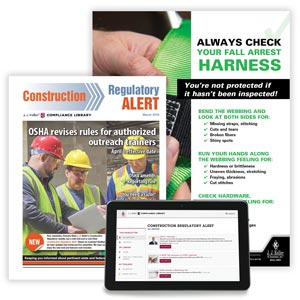 J. J. Keller® Construction Regulatory Update keeps you up-to-date with 1926 regulatory changes and new safety information.
---
J. J. Keller's FREE Workplace SafetyClicks™ email newsletter brings quick-read workplace safety and compliance news right to your email box.