Multi-state paid leave laws confusing? Congress introduces Workflex Bill
Posted November 7, 2017
On November 2, Representative Mimi Walters (R-California) introduced The Workflex in the 21st Century Act, which is intended to help ease the burden of trying to comply with the growing patchwork of state paid leave provisions.
The bill would allow employers to choose to adopt a "workflex" plan under the Employee Retirement Income Security Act (ERISA). Such a plan would provide paid leave to all employees (both full- and part-time), offering them the option to participate in at least one of six flexible scheduling options:
A compressed work schedule,
Biweekly work,
Telecommuting,
Job-sharing,
Flexible scheduling, or
A predictable schedule.
For purposes of these workflex options, an employee would be eligible to participate if he or she has worked for the employer for at least 12 months and worked at least 1,000 hours in the 12-month period.
Because such a plan would fall under ERISA, it would pre-empt state and local paid leave laws, such as those in California, Oregon, Illinois, Vermont, Massachusetts, New Jersey, and the District of Columbia, among others.
A qualified workflex plan would need to provide a minimum of paid leave depending on the size of the employer and the years of an employee's service:
Number of employees
Minimum number of paid leave days
Employees with 5+ years of service
Employees with fewer than five years of service
1,000 or more
20
16
250 – 999
18
14
50 – 249
15
13
Fewer than 50
14
12
The bill would need to pass through both chambers of Congress and be signed by the President before becoming law. It has been referred to the House Committee on Education and the Workforce.
This article was written by Darlene Clabault of J. J. Keller & Associates, Inc.
---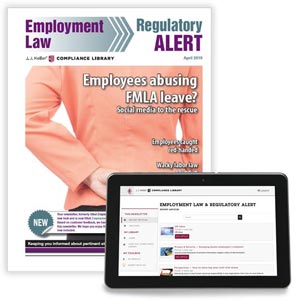 J. J. Keller's Employment Law Today newsletter explains why you need to care, what you need to do and how your business could be affected by HR industry news.
---
J. J. Keller's FREE HRClicks™ email newsletter brings quick-read human resources-related news right to your email inbox.