FMCSA: ELD December 18 deadline remains, and agency is "ready to go"
Posted November 20, 2017
The head of the Federal Motor Carrier Safety Administration's (FMCSA) enforcement division says the agency is "ready to go" with implementation of the electronic logging device (ELD) mandate.
Speaking to reporters on Monday afternoon, Joe DeLorenzo, Director of the FMCSA's Office of Compliance and Enforcement, laid out three steps the agency will be taking, dealing with the issues of enforcement, personal conveyance, and agricultural operations.
Importantly, the agency is sticking with the December 18, 2017, deadline for most commercial vehicle drivers to begin using ELDs in place of paper logs.
Enforcement
If a driver is stopped after December 18 without an ELD but is otherwise in compliance with the hours-of-service regulations, they will be cited for the ELD violation but it won't affect their CSA scores and they will be allowed to continue driving.
Concerning enforcement, the FMCSA will not count ELD violations against a carrier's Compliance, Safety, Accountability (CSA) scores or their safety records before April 1, 2018, DeLorenzo said.
"Whether or not a state issues a ticket is really up to them," DeLorenzo added.
In August, the Commercial Vehicle Safety Alliance announced that drivers would not be placed out of service before April 1st solely for not having an ELD.
"Starting on April 1st, 2018, the agency will move into a regular mode of enforcement," DeLorenzo said, "and drivers and vehicles that are found to not have an ELD will be treated as not having a record of duty status and will be placed out of service at that time."
Personal conveyance
The FMCSA also announced that new guidance on "personal conveyance" will be published in coming weeks, to clarify when drivers may operate a commercial vehicle in an "off duty" status for purely personal reasons.
In part, the new guidance will allow drivers to use the personal-conveyance option even if their vehicle is loaded, DeLorenzo said. Under existing guidance, the vehicle must be "unladen."
Agriculture
Finally, due to concerns about hours-of-service restrictions on livestock haulers, the FMCSA will be "issuing a 90-day waiver from the ELD rule to the agricultural industry," DeLorenzo announced, allowing the industry to continue to use paper logs. The 90-day period will begin on December 18, 2017.
The delay will give the agency time to review several ag-related ELD exemption requests and also publish new guidance on the use of the agricultural exemption in 49 CFR Sec. 395.1(k).
The new guidance will clarify the 150-air-mile boundary, "empty miles" and loading/unloading time, and the definition of "source" under the ag exemption, DeLorenzo said.
The new guidance on personal conveyance and the agricultural exemption will both be open to public comment.
This article was written by Daren B. Hansen of J. J. Keller & Associates, Inc.
---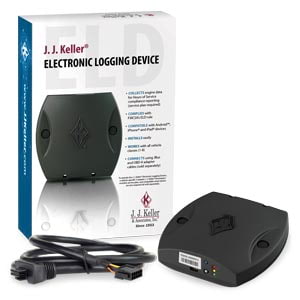 Start your transition to ELDs today with J. J. Keller® E-Logs – compatible with iPad®, iPhone® and Android™ mobile devices. Affordable, flexible options from the nation's most respected transportation solutions provider.
---
J. J. Keller's FREE Transportation SafetyClicks™ email newsletter brings quick-read safety and compliance news right to your email box.