Trenching deaths more than doubled in 2016
Posted November 22, 2016
Because one cubic yard of soil can weigh up to 3,000 pounds, workers often do not survive trench collapses. In 2016, 23 workers lost their lives in trench collapses and an additional 12 workers reported injuries, according to OSHA. In 2015, 11 workers died in trench accidents.
Dr. David Michaels, assistant secretary of labor for OSHA said, "Trench deaths have more than doubled nationwide since last year — an alarming and unacceptable trend that must be halted. There is no excuse. These fatalities are completely preventable by complying with OSHA standards that every construction contractor should know."
The latest fatality occurred in June, when a 33-year old employee of a plumbing contractor was crushed to death as he was digging a 12-foot trench in Washington Township, Ohio. The trench walls collapsed on the worker, burying him in thousands of pounds of soil. His body was not recovered for hours.
An OSHA investigation found the employer had not provided required trench cave-in protection, citing the company for two willful and two serious safety violations. In addition, OSHA found the company failed to protect workers from excavated material failing or rolling into a trench or failing from inside the trench walls and failed to train workers to recognize trench hazards. Proposed penalties total $274,359.
The employee was part of a crew installing a sewer line at a residential home. OSHA reports that earlier on the day the worker was killed, a portion of the trench had collapsed, but the worker was able to escape. In addition, the same worker had been involved in a trench collapse the previous month at another construction site where trench cave-in protection had not been provided.
OSHA's construction safety standards require cave-in protection for trenches that are more than five-feet deep. The Agency urges all companies performing excavations to re-examine their safety procedures to make sure they are taking all available precautions. This includes:
Having a competent person inspect excavations and protective systems daily.
Installing trench boxes and shoring when necessary.
Keeping soil and other materials at least two feet from the trench edge to prevent soils from falling back into the open trench.
The employer has 15 business days from receipt of these citations to comply, request an informal conference with OSHA's area director, or contest the findings before the independent Occupational Safety and Health Review Commission.
---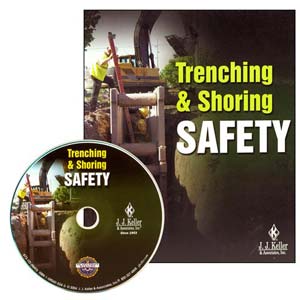 J. J. Keller's Trenching & Shoring Safety DVD Training Program helps your employees avoid trench accidents by training them on safe excavation-site procedures.
---
J. J. Keller's FREE Workplace SafetyClicks™ email newsletter brings quick-read workplace safety and compliance news right to your email box.