HHS adds trichloroethylene to list of known carcinogens
Posted November 7, 2016
The U.S. Department of Health and Human Services (HHS) released its annual report on cancer-causing substances on November 3. The 14th Report on Carcinogens (RoC) includes seven newly reviewed substances, bringing the cumulative total to 248 substances.
The Roc is a report mandated by Congress and prepared for the HHS secretary by the National Toxicology Program (NTP). The report identifies various substances such as chemicals, infectious agents, physical agents, mixtures of chemicals, and exposure scenarios in two categories: 1.) known to be a human carcinogen and 2.) reasonably anticipated to be a human carcinogen.
This year, HHS added trichloroethylene (TCE) to the list of known carcinogens, and the metallic element cobalt and cobalt compounds to the list of reasonably anticipated human carcinogens. Five viruses that have been linked to cancer in humans were also added to the list.
TCE is an industrial solvent used to make hydrofluorocarbon chemicals. In 2000, TCE was listed in the report as a reasonably anticipated human carcinogen. Since then, many human studies have shown a causal association between TCE exposure and an increased risk of kidney cancer. Human exposure to the chemical can occur through the air, water, or soil in placed where it is produced or used. TCE breaks down slowly and moves readily through soil to make its way to underground sources of drinking water. Because of its widespread use as a metal degreasing agent for military equipment, TCE has been found in the groundwater at many military and Superfund sites.
Cobalt and cobalt compounds that release cobalt ions in vivo are being listed as reasonably anticipated to be a human carcinogen. Cobalt in vitamin B-12 is not included in the list of cobalt and cobalt compounds. Cobalt is a naturally occurring element used to make metal alloys and other metal compounds and is widely used in rechargeable batteries. Exposures occur mainly in the workplace or from failed surgical implants.
According to the HHS's National Institute of Environmental Health Sciences, approximately 12 percent of human cancers worldwide may be caused by viruses. Given that there are no vaccines currently available for the five viruses on the list, prevention strategies to reduce the infections that can lead to cancer are critical. The five viruses included in the RoC are the human immunodeficiency virus type 1, human T-cell lymphotropic virus type 1, Epstein-Barr virus, Kaposi sarcoma-associated herpesvirus, and Merkel cell polyomavirus.
Find the 14th RoC on the National Toxicology Program website.
---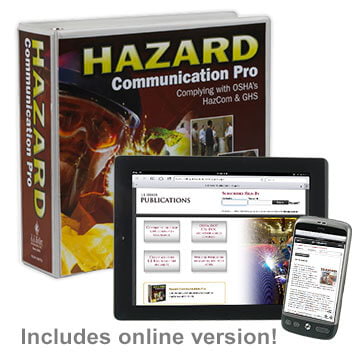 J. J. Keller's Hazard Communication Pro Manual + Online Edition helps you comply with OSHA's 2012 final rule aligning the Hazard Communication (HazCom) standard with the Globally Harmonized System of Classification and Labeling of Chemicals (GHS).
---
J. J. Keller's FREE Workplace SafetyClicks™ email newsletter brings quick-read workplace safety and compliance news right to your email box.