FMCSA limits scope of 'emergency' exemption
Posted October 13, 2023
Motor carriers that help out during government-declared emergencies will no longer be exempted from most DOT safety regulations.
The Federal Motor Carrier Safety Administration (FMCSA) has revised its emergency-response exemption to narrow its scope. Most drivers providing aid during a government-declared emergency will still be exempt from hours-of-service limits but not other safety mandates like driver-qualification or vehicle-inspection rules.
"Most emergencies justify allowing carriers and drivers who provide direct assistance to the emergency response to receive temporary relief from the normal hours of service (HOS) limits," the agency wrote. "However, other safety regulations … often have no direct bearing on the motor carrier's ability to provide direct assistance to the emergency relief effort."
The change to the rules in 49 CFR section 390.23 was announced on October 10, 2023, and is slated to go into effect 60 days after publication, which is expected soon.
The exemption applies to motor carriers and drivers providing "direct assistance" during a declared "emergency" as those terms are defined in section 390.5.
Under current rules, drivers who deliver critical supplies or provide other types of relief during a government-declared emergency are automatically exempt from most of the Federal Motor Carrier Safety Regulations (FMCSRs) as found in 49 CFR 390-399. This includes rules for medical certification, hours of service, vehicle inspection and maintenance, and so on.
Under the rules going into effect in December, the types of mandates the driver and motor carrier are exempt from will depend on the nature of the emergency declaration:
A presidential declaration of emergency will continue to exempt drivers from most FMCSRs for up to 30 days.
An emergency declared by a state governor or the FMCSA itself will only exempt drivers from the hours-of-service limits in sections 395.3 and 395.5, for up to 14 days.
A local emergency will exempt drivers from those same hours-of-service limits but only for up to five days.
Motor carriers will be able to ask for an extension by emailing the FMCSA at a dedicated email address. When an extension is granted, motor carriers continuing to use the exemption may be required to report their usage to the FMCSA.
This article was written by Daren Hansen of J. J. Keller & Associates, Inc.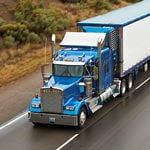 Looking for more on transportation safety?
Get the information and products you need to stay on top of industry changes and comply with regulations.