EEOC seeks public input on updated harassment guidance
Posted October 6, 2023
The U.S. Equal Employment Opportunity Commission (EEOC) has invited the public to comment on its proposed "Enforcement Guidance on Harassment in the Workplace."
The guidance was published in the Federal Register on October 2, and the public has until November 1 to submit comments.
Update to 2017 guidance
The EEOC first released proposed guidance on workplace harassment for public comment in 2017, but it was not finalized. The updated 143-page proposed guidance reflects notable changes in employment laws in the past six years, including: • The U.S. Supreme Court's 2020 decision in Bostock v. Clayton County, which barred workplace discrimination based on sexual orientation or gender identity, • The #MeToo movement, and • Emerging issues, such as virtual or online harassment.
To make its guidance current and understandable, the EEOC added a wide range of updated scenarios, and incorporated current case law on workplace harassment.
Highlights of the proposed guidance
The proposal explains the legal standards and employer liability that apply to harassment claims under the federal employment discrimination laws enforced by the EEOC.
The guidance notes, for example, that employers can be liable for non-work-related virtual or online harassment if the victim feels the effects in the workplace (e.g., by encountering their harasser at the office or discussing the behavior with others at work) or if employees use company communication systems to harass.
A single incident can create a hostile work environment
The proposed guidance also describes how in limited circumstances, a single incident of harassment can result in a hostile work environment.
These circumstances include:
Sexual assault;
Sexual touching of an intimate body part;
Physical violence or the threat of physical violence;
The use of symbols of violence or hatred toward individuals sharing the same protected characteristic, such as a swastika, an image of a Klansman's hood, or a noose;
The use of animal imagery that insults individuals sharing a protected characteristic, such as comparing the employee to a monkey, ape, or other animal;
A threat to deny job benefits for rejecting sexual advances; and
The use of the "n-word" by a supervisor in the presence of a Black subordinate.
According to the EEOC, using nicknames based on protected characteristics is a serious form of workplace harassment because they're "intensely degrading, deriving their power to wound not only from their meaning but also from "the disgust and violence they express phonetically."
Why guidance is needed
Between fiscal years 2016 and 2022, more than one-third of charges received by the EEOC included a harassment allegation.
"Preventing and addressing harassment in America's workplaces has long been a key priority for the EEOC, and this guidance will provide clarity on new developments in the law and build on the Commission's previous work," said EEOC Chair Charlotte A. Burrows. "The Commission looks forward to receiving public input on the proposed enforcement guidance."
This article was written by Judy Kneiszel of J. J. Keller & Associates, Inc.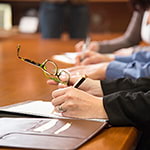 Looking for more on HR compliance?
Get the information and products you need to stay on top of industry changes and comply with regs.