Union Pacific's new intermodal seal requirements
Posted October 21, 2022
Transporters who move intermodal containers via Union Pacific (UP) in the United States must comply with new intermodal seal requirements, according to a policy change announced by UP on October 5, 2022.
On December 5, 2022, Union Pacific will require high security "H" seals on all intermodal shipments.
UP indicated that "H" seals will help reduce industry thefts and "provide the highest level of protection from unauthorized entry into intermodal containers or trailers during all levels of logistic transportation from the shipper". Furthermore, UP indicates a minimum seal requirement of "1/8 cable or bolt seal", which means a high security "H" cable or bolt seal as defined by ISO 17712. A "1/8 cable" is a cable seal with a 1/8-inch (3.25 millimeter [mm]) diameter cable. Smaller diameter cable seals would not meet this requirement.
The policy change is expected to reduce theft and loss claims for shippers. Indicative seals do not deter theft, but high security seals provide protection against unwanted intrusion.
UP customers can no longer use indicative "I" seals or security "S" seals for intermodal shipments beginning December 5, 2022. Examples of "I" seals include plastic seals and metal (tin) strap seals. Examples of "S" seals include cable seals with smaller than 1/8-inch (3.25 mm) cables.
JJK OEM bolt seals and JJK OEM cable seals with 3.25 mm (or greater) diameter cable will meet UP's new intermodal shipment requirements that take effect on December 5, 2022.
Visit the following for products meeting UP's seal standards:
This article was written by Josh Lovan of J. J. Keller & Associates, Inc.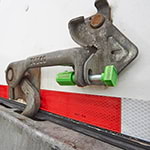 Looking for security seals?
J. J. Keller offers a extensive selection of bolt, cable, metal and plastic seals. Choose from a variety of styles, lengths, locking systems, colors, and security levels.