No trick: Continue using the current Form I-9 after October 31 expiration date
Posted October 26, 2022
According to the U.S. Citizenship and Immigration Service (USCIS), employers should continue using the current Form I-9, Employment Eligibility Verification, after its expiration date of October 31, 2022, until further notice. The agency will publish a Federal Register notice to announce the new version of the Form I-9 once it becomes available, but the USCIS is silent on when that will happen.
The proposed changes to the form include:
Reducing the number of pages from two to one.
Turning the form's current Section 3 into a Reverification and Rehire Supplement that is only used as needed.
Providing three separate areas for entering information on the Reverification and Rehire Supplement.
Simplifying the instructions, reducing them from 15 pages to seven.
Updating the List of Acceptable Documents to include a link to List C documents that are issued by the DHS and acceptable receipts listed in the regulations at 8CFR 274a.2(b)(1)(vi) (A-C).
Removing electronic PDF enhancements to ensure that the form can be completed on all electronic devices.
Federal law requires every employer who recruits, refers for a fee, or hires an individual for employment in the U.S. to complete a Form I-9, Employment Eligibility Verification. Employers need not, however, complete a new Form I-9 for current employees who already have valid I-9 Forms on file.
Virtual review extended
The U.S. Immigration and Customs Enforcement (ICE) also extended the flexibility for employers to virtually review acceptable documentation for completing Form I 9, which was set to expire on October 31, 2022. Because of ongoing COVID precautions, this is extended until July 31, 2023.
The ICE has proposed a rule giving the agency the ability to allow virtual review, but this could be limited, and take time to become reality.
This article was written by Darlene Clabault of J. J. Keller & Associates, Inc.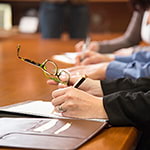 Looking for more on HR compliance?
Get the information and products you need to stay on top of industry changes and comply with regs.