EEOC releases new 'Know Your Rights' poster
Posted October 20, 2022
A new "Know Your Rights: Workplace Discrimination is Illegal" poster was released on October 19 by the Equal Employment Opportunity Commission (EEOC). The new poster replaces the "Equal Employment Opportunity is the Law" poster, also known as the "EEO is the Law" poster. Employers with 15 or more employees must display the new poster.
Temporarily unavailable
While covered employers must post the new poster as soon as possible, they may need to wait to obtain the final version. A few hours after announcing the release of the new poster, the EEOC removed it from its website.
The poster announcement remained on the website, however, and states that employers must display the poster.
What's different about the 'Know Your Rights' poster?
The new poster:
Clarifies that sex discrimination includes discrimination based on pregnancy and related conditions, sexual orientation, or gender identity,
Notes that harassment is a prohibited form of discrimination,
Adds a quick response (QR) code that links to a webpage on how to file charges with the EEOC,
Provides information about equal pay discrimination for federal contractors, and
Uses a bulleted format.
Where to post the 'Know Your Rights' poster
Employers must display the poster in a conspicuous location in the workplace. It must be visible to applicants as well as employees.
Employers are also encouraged to display it online. Online posting usually supplements physical posting at the workplace, the agency notes, but it may be the only posting for employers without a physical location or for employees who work remotely.
The EEOC also states that the poster should be made available in an accessible format, as needed, to persons with disabilities. The notice can be provided in an electronic format that uses screen-reading technology or in an audio file. It can be read to applicants or employees who have disabilities that limit seeing or reading ability.
What else is on the 'Know Your Rights' poster?
As with the "EEO is the Law" posting, the "Know Your Rights: Workplace Discrimination is Illegal" poster summarizes federal laws prohibiting job discrimination. It includes information about discrimination based on:
Race
Color
Sex
National origin
Religion
Age (40 and older)
Equal pay
Disability
Genetic information
Retaliation for filing a charge
The poster notes that all aspects of employment, including discharge, harassment, hiring or promotion, benefits, and pay, can be challenged as a form of discrimination.
It also provides contact information for the EEOC and advises employees to promptly contact the EEOC if discrimination is suspected.
Information about the nondiscrimination and affirmative action requirements for employers holding federal contracts or subcontracts is also on the poster, as is information about laws that apply to programs or activities receiving federal financial assistance.
What should employers do?
Employers with 15 or more employees should post the "Know Your Rights: Workplace Discrimination is Illegal" poster as soon as it becomes available. Willful noncompliance with the posting requirement could result in a fine of up to $612.
Key to remember: Covered employers must post the "Know Your Rights" poster or risk being out of compliance with posting requirements.
This article was written by Terri Dougherty of J. J. Keller & Associates, Inc.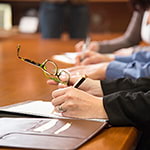 Get Labor Law Posters
Made in the USA, J. J. Keller's comprehensive line of labor law posters help you meet your federal, state, local and wage order poster needs. Even better, when you order our Update Service, we guarantee your posters will always be in compliance. Any time a mandatory change occurs, free revised posters will be sent automatically.