Traction device laws in effect in some regions
Posted October 1, 2021
It may be early autumn right now, and the thought of snow and ice isn't even on the minds of most. But, did you know some states require commercial motor vehicles to carry snow chains, tire cables, or alternative traction devices as early as September 1st?
Drivers in these areas should:
Carry the proper size and number of chains and extra links.
Regularly check the chains for broken hooks, worn or broken links, or bent or broken side chains.
Know how to safely put chains on a vehicle's tires.
Not wait until the last minute to put the chains on a vehicle's tires. The driver should pull over in a safe and level area, preferably a designated chain-up area. He/she should also wear reflective clothing to remain visible to other drivers.
Chains should be snug, but not too tight. They should be regularly checked and retightened when necessary.
It is advisable that the carrier research/contact each state and province in which the driver is traveling to gain basic facts such as these. This information should be communicated to the appropriate parties (e.g., drivers, dispatchers, fleet technicians) so your vehicles are properly equipped.
This article was written by Jen Loomis of J. J. Keller & Associates, Inc.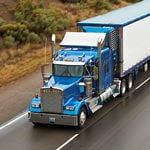 Looking for more on transportation safety?
Get the information and products you need to stay on top of industry changes and comply with regs.