Federal contractors must mandate COVID vaccine
Posted October 1, 2021
Under Presidential Executive Orders (EO), federal contractors must take steps, including vaccinating employees, to provide COVID-19 safeguards in workplaces with individuals working on or in connection with a federal contract or contract-like instrument.
Employees working on federal contracts must be fully vaccinated by December 8, except in limited circumstances involving medical or religious accommodations. To meet this deadline, employees would need to have received the second (or only) dose by November 24.
The EO does not require contractors to provide paid time off to obtain the vaccine, but contractors may have to do so under the forthcoming OSHA COVID-19 emergency temporary standard (ETS).
To carry out the vaccine mandate, contractors must verify that employees are vaccinated. Employees must show proof of vaccination. Having employees simply attest to the vaccine is not an acceptable substitute, nor is prior COVID-19 infection or a recent antibody test.
Vaccination proof includes the following:
A copy of the immunization record from a health care provider or pharmacy,
A copy of the COVID-19 Vaccination Record Card (CDC Form MLS-319813_r, published on September 3, 2020),
A copy of medical records documenting the vaccination,
A copy of immunization records from a public health or state immunization information system, or a copy of any other official documentation verifying vaccination with information on the vaccine name, date(s) of administration, and the name of a health care professional or clinic site administering vaccine.
A digital copy of such records, including, for example, a digital photograph, scanned image, or PDF of such a record.
Vaccination information, including status, must be kept confidential and separate from the general personnel file.
Beyond vaccination
All individuals at a covered workplace, including employees and third parties, must also comply with CDC guidance for masking and social distancing.
Contractors must also designate an individual or individuals to coordinate the safety efforts. This includes ensuring that information on the required protocols is provided to employees and all other individuals likely to be present at covered contractor workplaces. This may be provided through email, websites, memoranda, flyers, or other means, as well as posting signage at covered contractor workplaces setting forth the requirements. The signage would be mostly for visitors.
In areas of high or substantial community transmission (which is currently most places in the U.S.) all individuals on the covered worksite, regardless of vaccination status, must wear a mask indoors, subject to limited exceptions (e.g., alone in a room, while eating or drinking, etc.). In areas of low or moderate community transmission, those who are fully vaccinated are generally exempt from masking in most settings.
Therefore, contractors must check the CDC COVID-19 Data Tracker County View website for community transmission information in all areas where they have a covered contractor workplace at least weekly to determine proper workplace safety protocols.
Federal contractors will also need to comply with the upcoming OSHA ETS, including providing paid time off to get vaccinated and recover from any side effects.
These federal contractor requirements supersede any other conflicting rules that fall under state or local laws or ordinances.
This article was written by Darlene Clabault of J. J. Keller & Associates, Inc.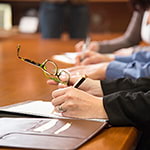 Looking for more on HR compliance?
Get the information and products you need to stay on top of industry changes and comply with regs.