CVSA posts the results of Brake Safety Week 2021
Posted October 22, 2021
Commercial Vehicle Safety Alliance's (CVSA) Brake Safety Week took place August 22-28, 2021. Over 35,700 commercial vehicles were inspected in the United States, Canada, and Mexico over the seven-day annual initiative.
During this year's event, inspectors placed 12 percent of commercial motor vehicles (CMVs) out of service (OOS) for critical brake violations.
More than 80 percent of this year's inspections took place in the United States. Out of the 28,694 CMVs inspected in the U. S., 13.5 percent were placed OOS with brake violations.
For those CMV inspections outside of the United States, brake OOS rates were:
15.4 percent for Canada, and
2.6 percent for Mexico.
Year-over-year, the U. S.'s brake violation rate increased slightly from 13 percent in 2020.
This year, inspections focused specifically on brake hose chafing violations. Only 3 percent of U. S. CMVs were placed out of service for brake hose chafing violations, but this is an increase from 2020's critical brake hose chafing violation rate of 2.5 percent.
This article was written by Jen Loomis of J. J. Keller & Associates, Inc.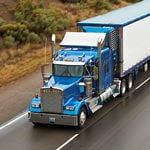 Looking for more on transportation safety?
Get the information and products you need to stay on top of industry changes and comply with regs.