How does DEA's new marijuana definition impact CMV drivers?
Posted October 23, 2020
The Drug Enforcement Administration (DEA) recently updated its definition of "marijuana" to conform to a 2018 law that removed certain restrictions from hemp and the hemp-derived product known as cannabidiol (CBD).
The change affected the official list of controlled substances that commercial drivers are prohibited from using, as found in 21 CFR Part 1308.
However, the revised DEA list of controlled substances will have little impact on regulated drivers.
What changed on DEA's Schedule I?
The list still includes marijuana, which commercial drivers can never use or possess, but hemp-derived substances are excluded. In addition, the definition of tetrahydrocannabinol (THC) — the main psychoactive component of marijuana — now excludes the THC found in hemp as long as its concentration remains below 0.3 percent.
Under DEA rules, any hemp product with a concentration of more than 0.3 percent THC is still treated as a Schedule I substance. This means it cannot legally be prescribed and cannot be used by any safety-sensitive employees, including commercial drivers.
Will a driver test positive for THC when using CBD oil? There is no guarantee that CBD oil derived from hemp will result in a negative drug test result. Factors include the concentration of THC in the CBD oil and how much oil the driver is using.
If the oil was processed from a marijuana plant, THC is more likely to show up in a drug-testing panel based on the chemical composition of the plant.
Since THC is an absolute in DOT testing, a medical review officer (MRO) cannot take the medicinal use of a CBD oil into consideration as he or she determines a drug test result.
What can motor carriers do?
Since CBD oil is becoming much more commonplace, drivers should be cautioned on the use of CBD oil.
Points to cover during driver training may include:
There is no guarantee of a negative drug test since trace THC may show up in a DOT urine specimen.
MROs will not accept CBD oil as a valid medical explanation for a positive test for THC.
Enforcement may view CBD oil in a commercial motor vehicle as possession since an officer is unable to determine the concentration of THC.
In addition, labels may not accurately reflect the true THC concentration, so buyer beware. Drivers should be especially wary of oils sold in states that allow for recreational and/or medical use of marijuana. The oil may have been processed from the marijuana plant, which may cause it to have higher concentrations of THC.
This article was written by Kathy Close of J. J. Keller & Associates, Inc.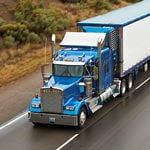 Looking for more on transportation safety?
Get the information and products you need to stay on top of industry changes and comply with regs.