EPA Proposes Contractor Access to Fuel-Related Confidential Business Information (CBI)
Posted October 29, 2020
EPA's Office of Transportation and Air Quality (OTAQ) plans to authorize contractor access to fuel and fuel additive information submitted under the Clean Air Act, including data submitted as confidential business information (CBI).
The OTAQ has responsibility for regulating air pollution from motor vehicles, engines, and the fuels used to operate them. In order to implement various compliance programs, OTAQ collects reports and other information from the regulated community. Businesses that submit CBI data often do so to protect products under development or to allow compliance through alternative methods. The risk of sharing the business sensitive information could be a concern.
The Federal Register notice issued October 26, 2020, details the proposed action. Included is data related to the registration of fuels and fuel additives under 40 CFR part 79, compositional and performance standards for reformulated gasoline, conventional gasoline, diesel fuel, detergents, and the renewable fuel standard (RFS) under 40 CFR part 80. EPA has determined it necessary to disclose to contractors, on a need-to-know basis, the fuel-related information that may be filed as CBI.
Public comment on the proposed action will be accepted through November 2, 2020.
This article was written by Laura Verity of J. J. Keller & Associates, Inc.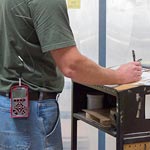 Looking for more on workplace safety?
Get the information and products you need to stay on top of industry changes and comply with regs.