EEOC changes could mean more claims
Posted October 21, 2020
On October 15, the U.S. Equal Employment Opportunity Commission (EEOC) published a final rule amending its procedural regulations to explicitly provide for digital transmissions of documents and to update no cause determination procedures. While this may seem fairly innocuous, employers may feel the repercussions in the months to come.
Employees who feel they have been illegally discriminated against at work have always been able to file claims, now the method of filing such claims is easier. The easier it is to file claims, the fewer hurdles employees have, which could result in an increase in such claims.
The final rule makes no changes to the charge filing process, but accounts for the digital transmission of charge-related documents, referencing changes that have been happening over the past several years as the EEOC has worked to provide greater digital services. Again, making a claim filing easier.
The EEOC also made changes to the language in its letters of determination to more clearly communicate with those who file claims about the EEOC's decision to close an investigation. The rule adds language that a dismissal includes notice of the claimant's statutory right to file a lawsuit. The EEOC's issuance of a "no cause" determination does not necessarily mean the claims have no merit. Therefore, even if the EEOC dismisses a claim, private litigation may still lead to discrimination findings and settlements. Before, employees might not have pursued such litigation based on a no-cause determination.
The changes will also allow more delegation, such that decisions may be made closer to the point of investigation, increase accountability, and not delay decision making. Employers may not have as much time to react. One of the pros of this change is that the delegation could result in quicker turnaround times for "no cause" findings and could help eliminate delays in charge closures.
The final rule is effective November 16, 2020.
Interestingly, the EEOCs also published proposed rules for the first time on its conciliation process. Generally, the parties to a claim voluntarily join the EEOC to try to settle the charge through an informal and confidential process — conciliation. Under new rules, the EEOC would provide employers with applicable claim information and allow employers with 14 days to respond to a conciliation proposal.
This article was written by Darlene Clabault of J. J. Keller & Associates, Inc.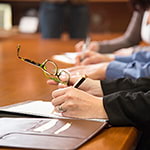 Looking for more on HR compliance?
Get the information and products you need to stay on top of industry changes and comply with regs.