EPA, Army issue final rule repealing "Waters of the United States"
Posted October 25, 2019
EPA and the Department of the Army published a final rule October 22 to repeal the 2015 Clean Water Rule: Definition of "Waters of the United States (WOTUS)," and to recodify the regulatory definitions of WOTUS that existed prior to the effective date of the 2015 rule.
The Agencies say the pre-existing regulatory definitions are the ones that they are currently implementing in more than half the states in light of various judicial decisions involving the 2015 rule.
The final rule takes effect December 23, 2019.
EPA and the Army also are reviewing comments received on a proposed revised definition of WOTUS. If finalized, the revised definition would replace the regulations that are being finalized in the October 22 rule.
This article was written by Rachel Krubsack of J. J. Keller & Associates, Inc.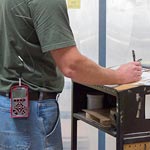 Looking for more on workplace safety?
Get the information and products you need to stay on top of industry changes and comply with regs.