$5.2M price tag for failure to accommodate an employee
Posted October 21, 2019
The Americans with Disabilities Act (ADA) sometimes seems to be a sleeper law. When it is woken up, however, it can have a strong bite.
Case in point
A jury recently determined that a large national retailer violated the ADA when it refused to accommodate the disabilities of a longtime employee, and awarded $5.2 million in damages, according to the U.S. Equal Employment Opportunity Commission (EEOC), which enforces the ADA's employment provision.
The EEOC initiated the lawsuit, which involved an employee who had a developmental disability and was deaf and visually impaired. He worked as a cart pusher in a Wisconsin location for 16 years before a new manager started at the store. In his first month, the new store manager suspended the employee and forced him to resubmit medical paperwork in order to keep his reasonable accommodations. Prior to the suspension, the employee performed his job with the accommodation of assistance from a job coach provided by public funding. The employee's conditions had not changed, the EEOC said. The employer indicated it had concerns about the employee's safety.
When the employee and his legal guardian submitted new medical paperwork, requesting the continued accommodation of assistance from a job coach, the store cut off communication and effectively terminated him, the EEOC charged.
After a 3.5-day trial, the jury found in favor of the EEOC and awarded the employee $200,000 in compensatory damages and an additional $5 million in punitive damages.
The company had policies in place to foster equal employment opportunities, provide accommodations in employment for people with disabilities, prevent unlawful discrimination on the basis of a protected characteristic (including disability) and provide for prompt investigation and documentation of reported violations of the policies. The company also trained their employees on the ADA and disability rights, including issues of accommodation and accessibility. Somewhere, something went wrong.
The court took issue with the employer's reasons for requesting new paperwork from the employee, how it approached the employee, and how the employee responded that raised questions about the employer's intent. The court also questions whether the employer followed their policies.
The company is weighing its options.
Many employers shrug off the ADA, in part because the EEOC doesn't go around auditing employers on their compliance. Rather, an employee is taken to task when an employee (or someone on behalf of an employee) files a claim. Many employees may be unaware of their rights under the ADA, which can decrease the sense of risk. When a claim is filed, however, it can be costly.
EEOC v. Wal-Mart Stores, Inc., Western District of Wisconsin, No. 17-cv.739, Decision from October 10, 2019.
This article was written by Darlene M. Clabault, SHRM-CP, PHR, CLMS, of J. J. Keller & Associates, Inc.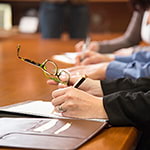 Looking for more on HR compliance?
Get the information and products you need to stay on top of industry changes and comply with regs.