States asked to accept older DOT medical certificates
Posted October 18, 2018
The Federal Motor Carrier Safety Administration (FMCSA) has changed its position on the use of recently expired Medical Examiner's Certificates.
On October 4, 2018, the agency announced that it had told state driver's licensing agencies (SDLAs) to reject drivers' medical certificates showing an expiration date of 08/31/2018 in the upper corner unless they were signed by the medical examiner on or before October 4, 2018.
Now the FMCSA has "requested that SDLAs continue to accept the old versions with the 08/31/2018 expiration date," according to the agency's medical office.
The expiration date indicates when the FMCSA loses its authority from the Office of Management and Budget (OMB) to require use of the form. That authority must be renewed every few years, and the expiration date was recently updated to 09/30/2019.
Though the FMCSA has historically granted a grace period during which old medical forms could still be used, the agency initially declined to do so, telling medical examiners that the 09/30/2019 forms must be used starting October 5, 2018.
The FMCSA is now "encouraging" use of the updated forms, but those dated 8/31/2018 will still be acceptable for now.
The sudden change in medical forms was causing headaches for some CDL-holding drivers whose exams were recorded on "expired" forms that were then rejected by state licensing agencies.
Another version is in development
Earlier this month, the FMCSA announced that yet another version of the medical forms is in the works, with a new OMB expiration date. Nothing on the forms will be changing except the date.
The OMB is taking public comment on the FMCSA's medical forms until November 19, 2018, so updated versions will not be available until sometime after that date.
---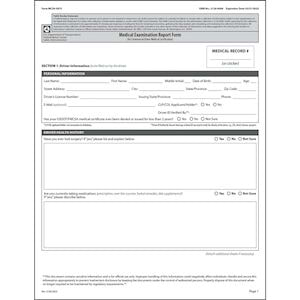 J. J. Keller's Medical Examination Report Form helps you comply with 49 CFR §391.43 DOT medical card requirements.
---
J. J. Keller's FREE Transportation SafetyClicks™ email newsletter brings quick-read safety and compliance news right to your email box.