Sexual harassment claims with EEOC skyrocket
Posted October 9, 2018
The U.S. Equal Employment Opportunity Commission (EEOC), which enforces the employment anti-discrimination laws, announced preliminary FY 2018 sexual harassment data.
Based on the preliminary data, in FY 2018, which ended September 30:
The EEOC filed 66 harassment lawsuits, including 41 that included allegations of sexual harassment. That reflects more than a 50 percent increase in suits challenging sexual harassment over fiscal year 2017.
Charges filed with the EEOC alleging sexual harassment increased by more than 12 percent from fiscal year 2017 to more than 7,500; the first increase in at least eight years.
For charges alleging harassment, reasonable cause findings increased to nearly 1,200 in FY 2018 compared to 970 in FY 2017. Successful conciliations reached nearly 500 up from 348 in FY 2017.
Overall, the EEOC recovered nearly $70 million for the victims of sexual harassment through litigation and administrative enforcement in FY 2018, up from $47.5 million in FY 2017.
Hits on the sexual harassment page of the EEOC's website more than doubled this past year, as many individuals and employers sought information to deal with workplace harassment.
The increase in claims reflects only those made with the EEOC, as some individuals may have chosen to not file a claim. Instead of the EEOC filing suit, some cases involve the plaintiff asking for a dismissal and notice of the right to sue in court. Employees may file a claim with their employer, with a state agency, or with the federal EEOC.
The increase is logically due to the #MeToo movement, which has empowered more willingness to report such issues. Employers remain on the forefront of sexual harassment situations, and need to address the issues, particularly giving the EEOC's enforcement focus on them. Some steps include reviewing (and possibly updating) any related policies, communicating any changes, training managers and supervisors, investigating all claims, and enforcing the policies. Having multiple reporting resources can help improve the protections of any victims.
The numbers are preliminary, and not yet validated by the Office of Enterprise Data and Analytics. The agency has worked this past fiscal year to address the pervasive problem of workplace harassment.
A number of states are also enacting laws governing workplace sexual harassment.
This article was written by Darlene M. Clabault, SHRM-CP, PHR, CLMS, of J. J. Keller & Associates, Inc.
---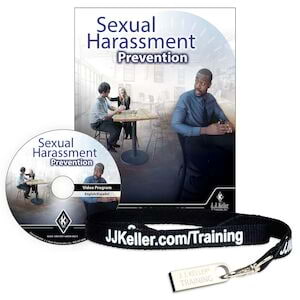 J. J. Keller's Sexual Harassment Training helps all employees—including bystanders—address unwanted and unlawful sexual harassment in the workplace and learn how to respond if an incident does occur.
---
J. J. Keller's FREE HRClicks™ email newsletter brings quick-read human resources-related news right to your email inbox.