DOJ approves FDA-approved marijuana-based drug
Posted October 2, 2018
The Department of Justice and Drug Enforcement Administration announced that Epidiolex, the newly approved medication by the Food & Drug Administration, is being placed in schedule V of the Controlled Substances Act (CSA), the least restrictive schedule of the CSA. This is the first time that any marijuana-based drug has been approved by a federal agency for lawful medical use.
Drugs, substances, and certain chemicals used to make drugs are classified into five distinct categories or schedules depending upon the drug's acceptable medical use and the drug's abuse or dependency potential. The abuse rate is a determinate factor in the scheduling of the drug; for example, Schedule I drugs have a high potential for abuse and the potential to create severe psychological and/or physical dependence. As the drug schedule changes — Schedule II, Schedule III, etc., so does the abuse potential. Schedule V drugs represents the least potential for abuse.
Schedule I drugs currently include heroin, lysergic acid diethylamide (LSD), marijuana (cannabis), 3,4-methylenedioxymethamphetamine (ecstasy), methaqualone, and peyote.
Epidiolex contains cannabidiol (CBD), a chemical constituent of the cannabis plant (commonly referred to as marijuana). The CBD in Epidiolex is extracted from the cannabis plant and is the first FDA-approved drug to contain a purified extract from the plant.
In June 2018, the FDA announced it approved Epidiolex for the treatment of seizures associated with two rare and severe forms of epilepsy, Lennox-Gastaut syndrome and Dravet syndrome, in patients two years of age and older.
Congress placed marijuana in Schedule I of the CSA and defined it as all parts of the plant Cannabis sativa L., with certain exceptions for the parts of the plant that are not the source of cannabinoids. Among the parts of the cannabis plant included in the definition of marijuana are: the flowering tops, the leaves, viable seeds, and the resin extracted from any part of the plant, and every compound, manufacture, salt, derivative, mixture, or preparation of the plant, its seeds or resin. Therefore, CBD derived from the cannabis plant is controlled under Schedule I of the CSA because it is a naturally occurring constituent of marijuana. Ongoing research continues into potential medical uses of CBD.
While marijuana remains a Schedule I drug, this recent DOJ approval of a marijuana-based drug could be a step toward rescheduling of marijuana. For employers, this could further muddy the waters when it comes to drug testing and accommodations.
This article was written by Darlene M. Clabault, SHRM-CP, PHR, CLMS, of J. J. Keller & Associates, Inc.
---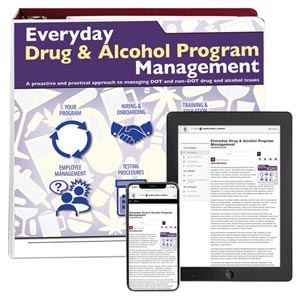 J. J. Keller's Everyday Drug & Alcohol Program Management Manual helps you manage a workplace and/or DOT drug and alcohol test, while complying with state and federal requirements.
---
J. J. Keller's FREE HRClicks™ email newsletter brings quick-read human resources-related news right to your email inbox.